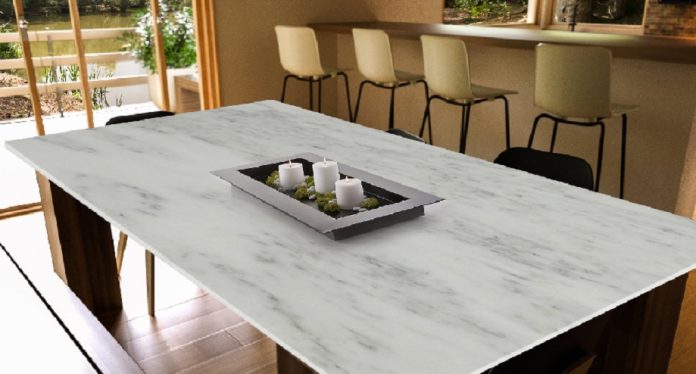 Color has profound psychological effects on our mind and body. After the uncertainty of the past two years, it is not surprising that color experts are predicting a turn to calming neutral earth tones in 2022. Natural stone trends are also moving to timeless, sustainable materials like white marble.
White Marble: A Classic Material that Complements Trends
White marble has been used for centuries for both residential and commercial properties. Peter Prvulovic, director of sales and marketing for Vermont Quarries, believes white marble has and always will be a staple in the building industry. Vermont Quarries has sponsored the Natural Stone Institute's 2022 Stone of the Year, which is Olympian White Danby marble.
"The nice part about white marble, in general, is the different types of veining it comes with," Prvulovic says. "Depending on what you are building and what your vision is for your project, you can always find some type of white marble to achieve your goal."
White marble has stood the test of time because it naturally shows worn areas that can bring the activity of the past to the present, says Jan Neiges, CMKBD, a certified master kitchen and bath designer with the National Kitchen & Bath Association and principal of Colorado-based Jan Neiges CKD LLC. Think of the beauty of worn marble steps and pathways as just one example.
"White marble is warm to the touch compared to the engineered quartz marble lookalikes," Neiges adds. "You can't replicate the veining in real marble with manmade materials. With new surfacing applications today, there is no reason to be afraid of real marble."
She often notices clients use large marble sheets for backsplash areas in the kitchen, especially around a hood, or as waterfall for islands. Large material for showers helps to reduce grout lines. She has also seen clients use marble as a back wall treatment behind a freestanding tub.
White marble can imbue a sense of calm and serenity—just like the trending colors for 2022. It's the reason so many homeowners opt to use the stone to create their own personal wellness space. According to Neiges, white marble pairs well with other materials, including wood, metal, and concrete.
Neiges feels so strongly about the material that she has white marble in her own home and one of the reasons she chose it was for its beauty as it ages.
Creating a Look All Your Own
Prvulovic understands the appeal of using natural stone. It's a beautiful material that Mother Nature created. "It is not a material that someone printed or stamped," he adds. "The beauty is the veining and movement that was created through the settlement of the material itself. As they say, often imitated but never duplicated. The beauty of natural stone is the fact that even same material used on different projects does not look the same."
Like Neiges, there are reasons Prvulovic himself is drawn to marble. "I appreciate the fact that you can obtain slabs with very little to no veining or something that has large wild movement," he says. "I am one of the odd people in this world who likes to see the movement in the material."
Source: usenaturalstone.org