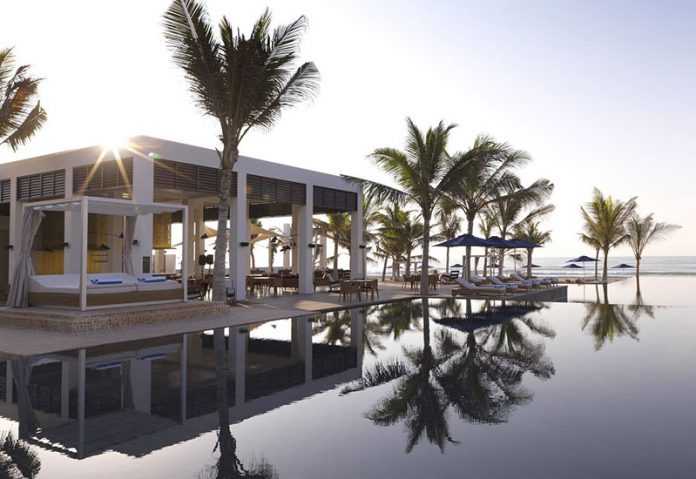 2018 has been the year of luxury openings in Oman. The country has seen the Ritz-Carlton Al Bustan Palace reopen its doors and the debut of the luxury Kempinski brand. It will soon see the launch of the first W-branded hotel in the country on February 1, 2019 and the number of hotel rooms is expected to grow from 10,924 in 2017 to 16,866 keys in 2021.
The new hotel openings in Muscat are also expected to drive a 12% CAGR in the next three years according to the data by Colliers International. The total revenue of Omani hotels in the three-to-five-star category rose by 8.8% in 2018.
The Anantara brand opened two new luxury resorts in Oman back in late 2016 (Al Baleed Resort Salalah by Anantara and Anantara Al Jabal Al Akhdar) which was one of the first new hotels to put the spotlight on Oman and brought the attention of the luxury global traveller.
Dagmar Symes, general manager, Anantara Al Jabal Al Akhdar Resort believes that luxury tourists are increasingly becoming interested in experience-led travel, which dominates the luxury landscape.
"These travellers are looking for ways to escape and engage in meaningful experiences, and we're seeing that this has begun to evolve as they seek personal fulfillment. They are looking for transformative experiences, which cover a broad spectrum, whether it's learning a new skill or having a meaningful conservation with a local Omani," Symes adds.
Carsten Wiegandt, general manager, Kempinski Hotel Muscat adds: "In order to diversify its economy as part of Oman's Vision 2040, the Ministry of Tourism has taken remarkable steps to promote the Sultanate as a tourist destination, while maintaining the country's culture and charm by targeting high-net-worth individuals and luxury travelers.  Thus, demand for 4- and 5-star hotels has risen in recent years, with Kempinski Hotel Muscat being the latest 5-star property to open its doors in March of this year, alongside the new Muscat International Airport."
James Hewitson, general manager at Symes' sister property in Oman, Al Baleed Resort Salalah by Anantara is of the opinion that Oman is being looked at by many different investors and brands as it has such a huge potential for growth given the size of the country and coastline.
According to Hewitson, another reason for the rise in tourism in Oman is adventure tourism opportunities.
"Oman has some of the best sport fishing, mountain climbing, kite surfing, trekking and dune bashing in the region, due to the amazing variety in topography of the land in the country. You get such a strong sense of Arabia when you visit Oman, which is something that we have used within our marketing and which has proven a big draw for many international markets," Hewitson adds.
According to the latest monthly statistics released by the National Centre for Statistics and Information (NCSI), hotel occupancy rates also increased by 4.4% to 57.2% till the end of July 2018, against 54.8% for the same period last year.
Oman has a clear target of reaching 12 million tourists by 2040 and already some of the infrastructure to support this goal can be seen.
Hewitson believes that it is "very important to work together and continue to invest and re-invest our returns back into the segment to ensure sustained growth" to reach the 2040 goal.
He says part of this goal is the addition of more luxury beachfront resorts and the continued development of accessibility to the destination from all of the key tourism markets so Oman can take its share.
Another good example, according to him, is the launch of the new daily flight from Moscow to Muscat and visas upon arrival for Russian visitors. Oman is predicting triple digit growth from this market in 2019. Nationals from India, China and Russia are allowed a tourist visa on arrival, provided that they hold a UK, US, Australia, Canada or Schengen visa or residency permit.
By Sarakshi Rai
Source: www.hoteliermiddleeast.com