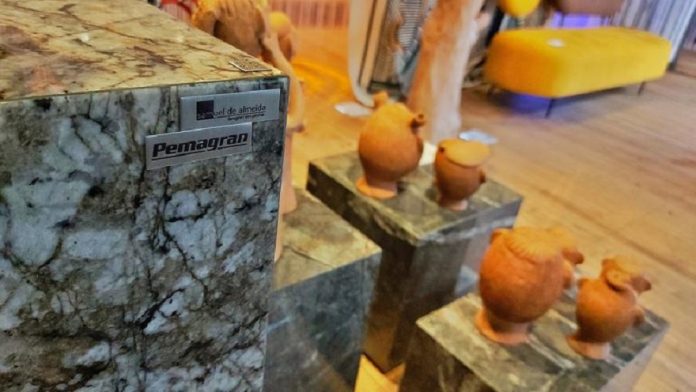 There has been a huge increase in the use of decorative granites and quartzites from Brazil in the UK, most of it going to worktop fabricators. Now Brazil is promoting its stones at Casa Brasil London It's Natural – Brazilian Natural Stone in Covent Garden from 25 August to 7 September.
Brazil says the UK is its third largest export market (behind the USA and China) and from 25 August until 7 September Centrorochas, the Brazilian Centre of Natural Stone Exporters, in conjunction with ApexBrasil, the Brazilian Trade & Investment Promotion Agency, is hosting Casa Brasil It's Natural – Brazilian Natural Stone to grow business relationships.
It takes place at The Stables, 40 Earlham Street, Covent Garden, London WC2H 9LH.
Brazil says it is the sixth largest supplier of stone to the UK and the fifth largest producer and exporter of natural stone in the world, thanks to its geological diversity that has given it some 1,200 named stones to sell.
During Casa Brasil the characteristics of the Brazilian stone market will be highlighted in a lecture at 7.30pm on 26 August entitled 'Get to know the power of Brazilian stones' given by Fabio Cruz, the Vice-President of Centrorochas, and Paulo Giafarov, an international specifier.
Fabio Cruz says: "Besides the extraction potential, Brazil has a large industrial park for the supply of finished and semi-finished products, works of art, design, architecture, among others.
"The privilege of having large mineral reserves allows for large-scale production to meet demands in large volumes. Thanks to the technological production capacity, the Brazilian stones go through modern and environmentally sustainable processes – more than 95% of all water used in the production process is totally re-used."
Paulo Giafarov adds: "We can say, without a doubt, that our materials surprise with their colours, textures, patterns and finishing quality." During the lecture he will highlight some of the creative uses of Brazil's natural materials.
On 25 August, Fabio Cruz, project manager Rogério Ribeiro and Paulo Giafarov will be making a presentation about the Brazilian stones to members of Stone Federation Great Britain. As well as talking about Brazil's geological characteristics and operational capacity, they will highlight the commercial relationship between the two countries.
Rogério Ribeiro says: "The United Kingdom is seen as a strategically important commercial partner for Brazil, since it brings together a large architectural centre, responsible for a good part of the new developments in the Middle East."
He says the promotion of Brazilian stones in Britain is important because of the British market but also because Britain influences sales in countries such as Saudi Arabia, United Arab Emirates and Qatar.
Source: www.stonespecialist.com