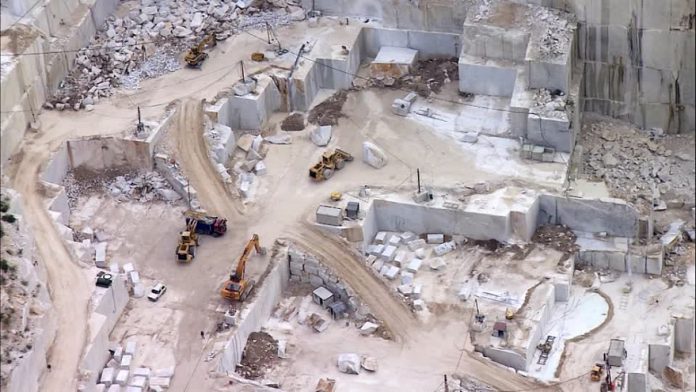 Work on residential and commercial projects is slowing as materials from overseas become harder to get, posing a threat to construction jobs. 
When it comes to obtaining building materials, real estate developers often buy globally, not locally. But as the coronavirus spreads across the world, bringing countries to a standstill, the lack of access to overseas supplies is sending jitters through the construction industry.
Delayed so far at large-scale residential and commercial projects have been goods like marble, tile, paving stones, furniture, lighting equipment and elevators — and even models of buildings themselves, workers say.
Warning signs are appearing on multiple fronts. And the setbacks threaten jobs in an industry that employs millions of people. In many cases, no materials means no work, analysts say.
Many of the components that make up a building come from China, even after Beijing and Washington got into a messy trade war. China is also the center of the coronavirus outbreak, and products scheduled to ship from the country in recent weeks have been plagued by further delays.
Delays in materials have so far not forced widespread layoffs in the U.S. construction industry, which in February employed more than 7.6 million people, according to the Bureau of Labor Statistics. One reason for the low number of shutdowns may be that some materials from China had been stockpiled in advance to offset vacations taken in February by Chinese factory workers for Lunar New Year, they say.
When work shutdowns have occurred, it's because government officials ordered them. On Monday, Boston closed all construction sites, affecting tens of thousands of workers. Mayor Martin J. Walsh urged managers to not fire employees but just lay them off temporarily. For similar reasons, the six counties that make up the Bay Area of San Francisco on Monday ordered a halt to all construction projects except those involving housing. On a smaller scale, several upscale apartment buildings have stopped apartment renovation projects, including the Ritz Tower co-op in Midtown Manhattan.
Price, of course, dictates where developers shop, and because foreign markets often have lower-cost items, they have become a go-to source. But with the coronavirus crisis, longtime calculations might have to be rethought. Paying a bit more for domestic materials whose delivery is less at risk in future crises might be a smarter bet.
Source: www.nytimes.com