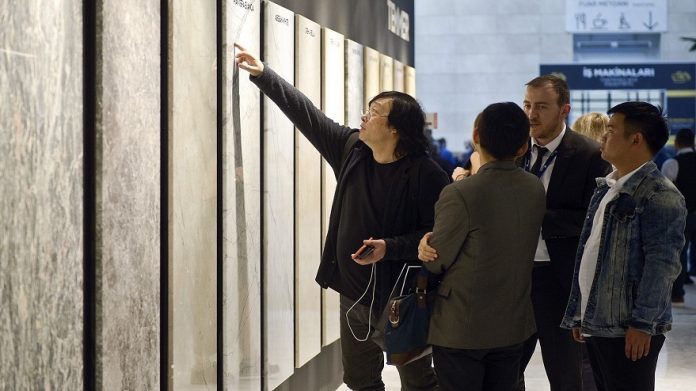 International Natural Stone and Technologies Fair, one of the most important meetings of the world natural stone industry organized by İZFAŞ, will bring together many companies and professionals from our country and the world natural stone sector between 25-28 August 2021.
Saying that the fair will be opened in accordance with the decisions taken by the Fair Advisory Board, which was attended by 87 people, Aegean Mineral Exporters' Association President Mevlüt Kaya continued his words as follows:
"After the advisory board meeting, we have been working for about 2 months in line with the demands from our industry. Presidents of TUMMER, TMD, EIB, IMIB representing the sector on 30 June; İZFAŞ General Manager Canan Karaosmanoğlu Ali and her team held a meeting and conveyed the industry's views and demands on Marble 2021. With the support of our Izmir Metropolitan Municipality Mayor Tunç Soyer, it was decided that our companies that do not want to participate in Marble 2021 will retain their current places in 2022."
Work continues intensively for the procurement committees
Mevlüt Kaya said that the decisions taken were announced in the online meeting held on July 2, under the chairmanship of İZFAŞ General Manager Canan Karaosmanoğlu Buyer, with the participation of the heads of TUMMER, TMD, EIB and IMIB.
"Marble, which is among the top three natural stone and technologies fairs in the world with the number of national and international visitors, and will open its doors for the 25th time on August 28-26, is ready in all aspects. Epidemic measures were taken for exhibitors and visitors. Together with İZFAŞ, our Exporters' Associations continue to work intensively for purchasing committees. Despite all these conditions, companies that do not choose to participate in Marble 2021 will have their place rights in 2022."
Participation in Marble 2021 will be much more productive than expected
Kaya said, "The increase in demand for our processed natural stones, especially from developed countries, and the acceleration of the vaccination process in these countries and in our country make us hopeful for Marble 2021 participation. Considering the natural stone fairs that will take place in China, the USA and Italy this year, the Marble 2021 fair, which will be held in Turkey, the homeland of natural stone, will add dynamism to our sector, and the participation in Marble 2021, the prestige of our sector and our country, is much higher than expected. We have full confidence that it will be more efficient." said.
Source: www.raillynews.com