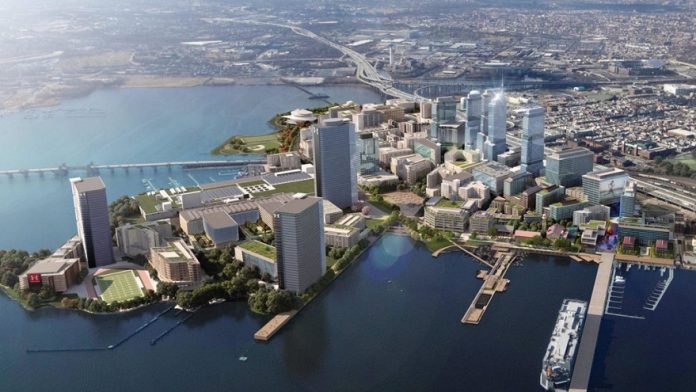 Already on the site are some dining establishments and office building for Under Armour, which played a key role in getting development plans started but has since delayed its plans for a headquarters on the site. When the entire Port Covington project is built out, it will feature up to 40 acres of parks and green space, 2.5 miles of restored waterfront and 18 million square feet of new, mixed-use space.
The first phase, which The Baltimore Sun reports is valued at $600 million to $700 million, will add 1.3 million square feet of office space, almost 338,000 square feet of retail, more than 976,000 square feet of residential space and 285,000 square feet of hotel space. Land grading will reportedly begin immediately and roadwork in the fall.
The first property to be completed during the first phase, the 275,000-square-foot Rye Street Market, is set to open in late 2021. The mixed-use building will feature 185,000 square feet of office space, a 13,000-square-foot open-air market and food hall, 50,000 square feet of retail, 12,000 square feet of meeting space and a 15,000-square-foot rooftop event venue.
Source: www.constructiondive.com