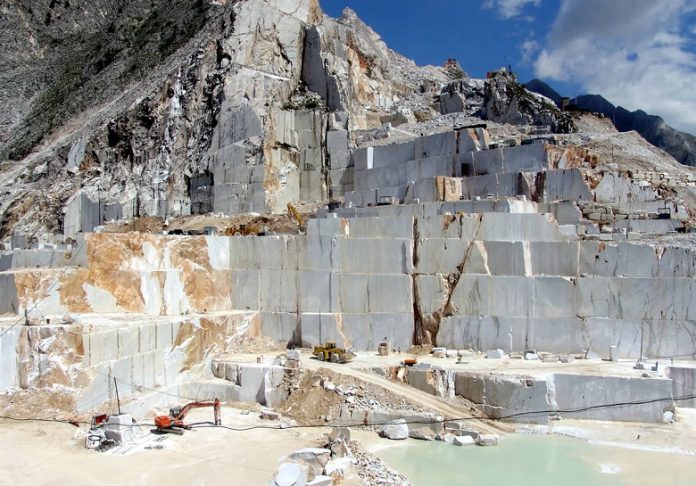 There is a dire need to expedite work on three-year second phase of World Bank multi donor trust fund (WB MDTF) in marble sector project that was resumed in January 2017.
The first phase of capacity building component initiated by WB MDTF in sector has achieved maximum goals in Khyber Pakhtunkhwa (KP). Other components of project are economic stability, institutional development, training of Small and Medium Enterprises (SMEs) etc.
Progress of this component in KP remained slow due to lack of administrative hitch and other factors. Work under other component of project in Karachi, Lahore and parts of Balochistan were also being undertaken.
Talking to Daily Times, Sanaullah Khan, Chairman All Pakistan Marble Mining Processing Industry and Exports Association while appreciating efforts of WB in development of marble sector has advised marble mining units and factories owners in Bajaur, KP and Mulagori to speed up efforts for development and prosperity of their businesses.
He said markets in Afghanistan Middle East and China were easily approachable if we would improve our industry on better disciplines and pick up our quality. "But at movement due to unrest in Afghanistan, our exports have declined".
There is need to exempt duty on import of machinery so that marble sector could be able to get latest machinery and technology and produce value added marble and granite products that would give boost to exports.
China is importing raw marble and granite from Pakistan and after processing and value addition, China is earning huge profits.
With the production of value added marble and granite products, marble exporters could bring billions of dollars in country by enhancing exports, he maintained.
The latest machinery and technology would greatly help marble mining at site and to aid in squared blocks extraction, sizing and cutting slabs of marble.
Ministry of Industries and Production and Mineral Department of Balochistan should work together for better results, he advised.
Around 1,400 stone mines are in operation and over 2,200 processing units are producing value added products in the country.
Mining and quarry sector contributes nearly 0.6 percent to Gross Domestic Products with a value addition of more than Rs 17 billion.
Our exports have been stagnant to around $54 million annually and there was need to equip us with latest technology and expertise, he concluded.
Talking to Daily Times, Muhammad Tariq Consultant for WB MDTF project said $63 million project was continued in right direction.
Around 300 local SMEs have been trained and streamlined for getting better output while modernising of machineries and equipment were undertaken in other parts of country including Balochistan and other sites of marbles in KP. WB Fund requires detailed prospects of marble sector in KP in order to facilitate mining and end product industry.
He stressed upon SMEs, Economic Revitalisation of KP and marble sector expert to work in close liaison in order to observe best practices, so that they become aware of best way of processing marble and may implement same practices in their units.
Sheikh Amir Waheed, President Islamabad Chamber of Commerce and Industry said that quantum of marble and granite exports could also be increased manifold by establishing marble industrial parks in collaboration with China under China Pakistan Economic Corridor to effectively utilise valuable marble reserves of country.
Industrial parks will bring cost effective cutting, blasting and finishing technology in Pakistan that will enhance competitive edge of sector and improve our exports, he added.
Due to using old quarrying methods, standard quarry wastage in Pakistan was up to 73 percent of gross production and country was suffering huge losses on this account.
Source: dailytimes.com.pk