The definition of an 'entertainment project' has steadily evolved in the GCC's construction industry over the past decade. Billions of dollars have been pumped into creatively designed recreational schemes across the Gulf over the last few years, as is evidenced by the launch of the Warner Bros Abu Dhabi theme park in July 2018, and Dubai Frame in January last year. 
The footfall recorded by these developments has reiterated the appetite for entertainment schemes in the Gulf, a region working towards economic diversification and future-building with a focus on its youth. Entertainment construction specialists will be happy to know that the Gulf, driven by Dubai, is steadily investing in recreational schemes.
The GCC's top entertainment construction projects to track in 2019 are: 
Sur Gate
Yas Arena
Reem Mall
Al Wasl Plaza
Aljada Central Hub
Sheikha Fatima Park
Kuwait Olympic Village
Saudi Arabia's cinemas
Qiddiya entertainment city
Bahrain's underwater theme park
Please note that this list is not a ranking and has been geographically arranged.
SUR GATE
Located on a plot of 21.7ha, Sur Gate in Al Sharqiyah is a notable project that is currently under construction in Oman. According to ProTenders, Sur Gate's budget is around $312m (OMR120m), with the development comprising a shopping mall, a hypermarket, a leisure centre, and commercial and educational facilities.
Sur Gate's highlight will be its City Walk component, which will offer service, retail, and entertainment products to visitors and residents. The latter set will be housed in townhouses and an accommodation complex spanning 5,859m2, which will be dedicated to the staff of Oman's Public Establishment for Industrial Estates (PEIE).
Al Sharqiya Real Estate Development & Investment Co is developing Sur Gate alongside PEIE. The former company is also engaged as general and mechanical, electrical, and plumbing (MEP) contractor, according to ProTenders. Abdulla Mukadam & Partner is listed by the construction data website as Sur Gate's lead consultant and structural and MEP engineer, while Resolution is working as design architect.
YAS ARENA
The 18,000-seater multi-purpose Yas Arena is a key development under way in Abu Dhabi by developer Miral Asset Management. WSP has provided leading and supervision consulting, plus MEP and structural engineering services for the project, which Bam International is building.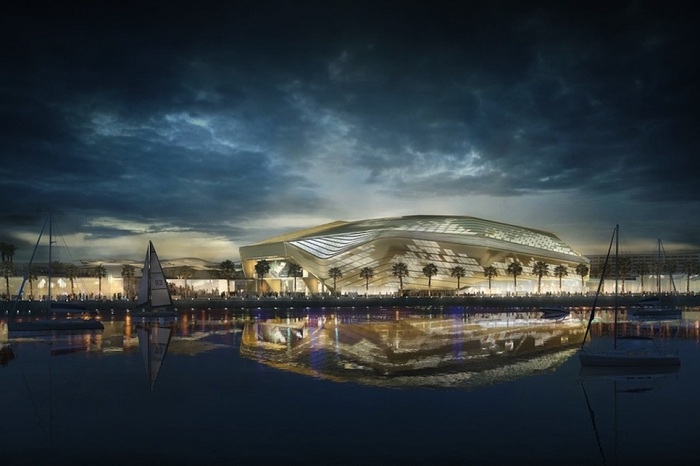 Upon its completion, events company Flash Entertainment will host a variety of events at Yas Arena, which is located close to the Yas Marina F1 circuit. Included within the project, which Hok worked on as design architect, are cafés and restaurants, retail outlets, a recreational pier, and hotels and a beach club, ProTenders states. Hok also designed the adjacent arena retail and dining destination along the project's boardwalk.
In January 2018, Dutch contractor Bam announced that it had started construction work on the temperature-controlled Yas Arena. Among the construction companies working on Yas Arena are Faithful+Gould, Currie & Brown, AESG, and BK Gulf. As of January 2019, construction work is steadily progressing at Yas Arena, its page on ProTenders shows.
REEM MALL
The developers of Abu Dhabi's $1.2bn (AED4.4bn) have been busy over the last 12 months. Al Farwaniya Property Developments – a partnership between Kuwaiti companies Agility; its affiliate United Projects for Aviation Services Co; and National Real Estate Company – is the builder behind the Najmat District project, which an Italian-Emirati joint venture of Itinera and Ghantoot is working on as contractor.
In September 2018, Shane Eldstrom, chief executive officer of Al Farwaniya Property Developments, said 4,000 workers were engaged on Reem Mall's construction site, adding that the project was "progressing smoothly" and "in line with [its] construction schedule". At the time, 14 tower cranes had been installed at the site.
December 2018 saw Dubai bourse-listed Drake & Scull International awarded a $163.4m (AED600m) MEP contract for Reem Mall.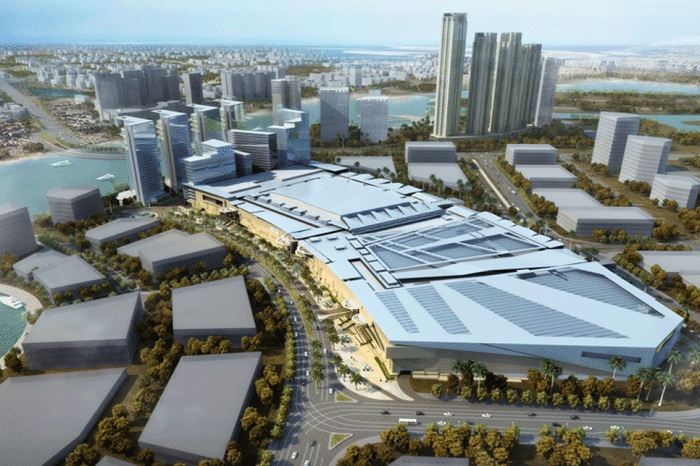 Reem Mall, due to open in 2020, will house 450 retail outlets, of which 100 will be food and beverage establishments. Retailers such as Carrefour, Majid Al Futtaim, Landmark Group, and Azadea Group and popular brands like Virgin Megastore, Home Centre, Centrepoint, Stradivarius, Adidas, Ecco, Steve Madden, Bershka, and Eataly will all have a presence at the mall. Sharaf DG will anchor Reem Mall with its largest outlet in Abu Dhabi.
Reem Mall's key attraction, however, is the Snow Park that its design has envisioned as a regional-first themed destination. Set to be the home of activities such as sledging, zorbing, and luge, the Snow Park at Reem Mall will span 1.1ha, it was announced in 2015. Dubai's Majid Al Futtaim Ventures, which also has snow-focused entertainment projects in Oman and China, will operate Reem Mall's Snow Park, as well as its Vox Cinemas and Magic Planet outlets. Reem Mall's cinema offering will comprise Imax screens, Theatre by Rhodes, and Vox Kids.
AL WASL PLAZA
Expo 2020 Dubai's Al Wasl Plaza may not be the traditional definition of an 'entertainment' scheme, but it will certainly reshape the leisure architecture segment in the years to come. The World Expo's organisers told Construction Week in October 2018 that Al Wasl Plaza's steel trellis dome will be the project's largest single structure, with a diameter of 130m and height of 67.5m.
Al Wasl Plaza's dome is the size of 16 tennis courts and weighs about as much as 500 elephants. After Expo 2020 Dubai has opened its doors on 20 October, 2020, the surface of the dome will act as a 360° projection screen at night, which can be seen from both inside and outside. The Adrian Smith + Gordon Gill Architecture-designed plaza will also feature restaurants, fountains, and parks.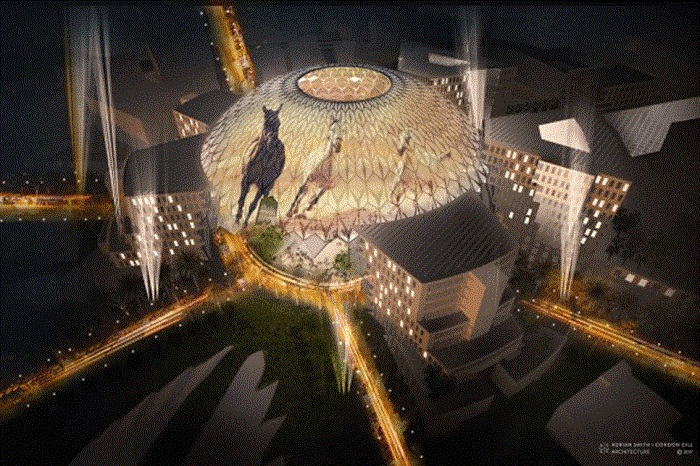 Expo 2020 Dubai's central hub features at least seven entrances and exits that will link the three Thematic Districts, as well as other main concourses, including the World Expo's Dubai Metro link and the UAE Pavilion, state news agency, Wam, reported in April 2017.
Work is steadily progressing on Al Wasl Plaza, the centrepiece of Expo 2020 Dubai's site which will connect the World Expo's Mobility, Opportunity, and Sustainability Thematic Districts. Steelwork pieces that form the domed trellis of Al Wasl Plaza were shipped in from Italy, where they were cast by Cimolai. The Italian structural steelmaker and contractor is working on Al Wasl Plaza through its Middle East arm and under a contract it won in November 2017.
ALJADA'S CENTRAL HUB
New construction in Sharjah is rapidly adopting global design philosophies as the UAE emirate continues to attract residents and tourists alike. One of the notable real estate developers driving this shift is Arada, the Sharjah-headquartered company that was jointly established in January 2017 through a partnership enterprise between KBW Investments and Basma Group.
Aljada is the firm's second development and was launched in September 2017. It followed the $408m (AED1.5bn) Nasma Residences unveiled by Arada in March 2017.
At the time of its launch, Aljada was touted to become Sharjah's largest-ever real estate development, with a total area of 2.2km2 and a population of almost 70,000 people. Work is currently progressing in various stages at the $6.5bn (AED24bn) megaproject, and in October 2018, Aljada told Construction Week that the Zaha Hadid Architects-designed Central Hub was also ready for building kick-off.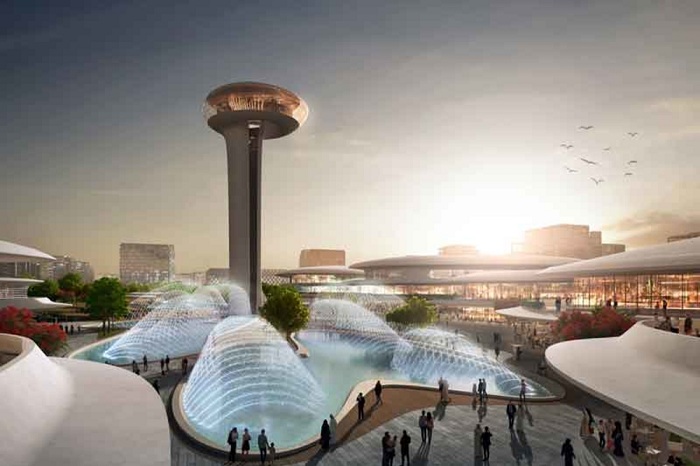 On the side lines of Cityscape Global 2018, Arada said that the 17.7ha leisure and entertainment component of Aljada would be built by Modern Building Contracting Co (MBCC) in the first phase. MBCC is already building four Areej Apartments blocks, which are part of Aljada's Phase 1.
Meanwhile, Phase 1 of Central Hub features Arada's sales centre, an outdoor cinema space, a food truck village, and a skate park. The first phase is due to complete by the end of Q1 2019, with the entire complex to be ready by 2022. In October 2018, MBCC had already mobilised on site for the 3ha Phase 1 of Central Hub.
Tenders for Phase 2 will be issued Q3 2019, and tendering for Phase 3 will begin in Q1 2020, with the second phase to complete in 2020, and the final to be ready in 2022. Additional elements of the car-free Central Hub – which is the size of 25 football fields and slightly larger than London's Green Park – will include a 6,038m2 water-based play area, an extreme sports centre, an 'edutainment' complex, an 11-screen cinema, a "giant adventure" golf course, 6.8ha of green space, and a landscaped community park that will cover a quarter of the complex.
Sustainable and futuristic building technology is being used for Central Hub's elliptical buildings to "channel prevailing winds", which in turn will help deliver natural cooling. Recovered and recycled water will be used to irrigate Central Hub, with smart solar power to be lined up for the Arada project.
"Tensile canopies will sustain a microclimate at ground level for gardens featuring plant species native to the region," Arada said in a statement, commenting on Central Hub, adding that the space would also be used as a public square for gatherings such as New Year's Eve and the UAE's National Day celebrations.
SHEIKHA FATIMA PARK
Abu Dhabi is all set to receive a brand new entertainment destination as the UAE capital's Sheikha Fatima Park is revamped in collaboration with developer Imkan to spur an active lifestyle in the city.
Imkan is working with Al Fara'a Engineering as main contractor on the 4.6ha project that will, upon its launch in 2019, include an adventure zone and an entire section devoted to women and children.
Revitalisation work is steadily progressing at Sheikha Fatima Park, formerly known as Khalidiya Ladies Park, with a view to improving mental health and physical activity levels in the UAE capital. Imkan is working with Abu Dhabi City Municipality on the project, which marks one of the municipal organisation's initiatives to support sustainable growth in collaboration with the private sector.
Arcadis is delivering consulting work for Sheikha Fatima Park, and Cracknell Landscaping is involved for design work. Imkan's chief executive officer, Walid El-Hindi, said the government agreement will help the developer spur further green projects in the UAE capital.
KUWAIT OLYMPIC VILLAGE
As economic diversification goals gather steam in the Gulf, entertainment projects are gaining attention for how they can support long-term growth schemes in the region, one of which is the New Kuwait 2035 programme.
The $1bn (KWD303.5m) Kuwait Olympic Village, on which construction began in December 2018, according to ProTenders, is one such economic diversification megaproject that is expected to help the Arab country reach its goal of sustainable development in the future. With a built-up area of almost 25ha, the sports project will feature a 25,000-seater stadium, indoor facilities for individual and team sports, and various supporting facilities.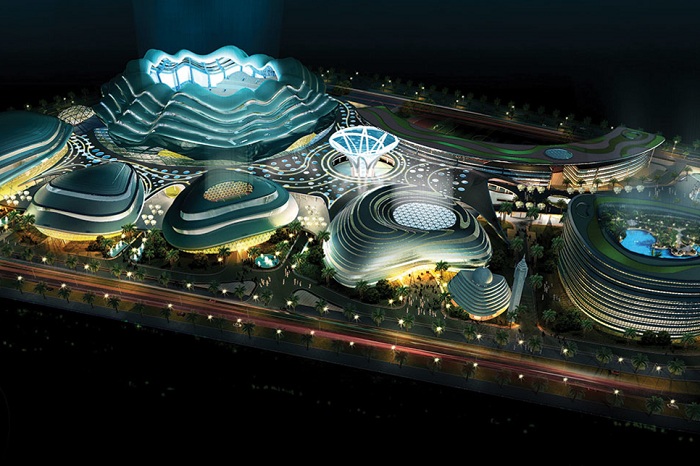 Meinhardt Group, which is delivering lead consultancy, façade, architecture, and landscaping services for the Jaber Al-Ahmad City project, said the scheme will also include a swimming complex and residential blocks, in addition to a mosque and an 'Olympic flame tower'.
The company is also providing civil, structural, and MEP engineering services for Kuwait Olympic Village, which according to ProTenders, is being developed by the country's Public Authority for Housing Welfare, or PAHW. According to the construction listings website, design work was ongoing for Kuwait Olympic Village in August 2018, and construction started in December.
Kuwait Olympic Village is due to complete in 2020, according to ProTenders, and will host international sporting events when it is ready.
SAUDI ARABIA'S CINEMAS
Cinema halls may have lost some of their relevance for a youth population attuned to Netflix, Hulu, and Amazon Prime, but Saudi Arabia recognises its citizens' and residents' strong appetite for film theatres. As socio-economic change is driven through Vision 2030, hundreds of cinema halls are likely to be established in the kingdom over the next decade.
In February 2019, UAE design house Art Jameel opened a competition inviting architects to envision a cinema hall for its Hayy: Creative Hub project in Jeddah. Applicants are required to specify for and design a cinema project – that is both sustainable and technology-focused – within the 1.7ha hub.
News of Art Jameel's cinema in Jeddah came after materials supplier Styro told Construction Week in November 2018 that it was targeting Saudi Arabia's cinema projects to fit with its recyclable and eco-friendly concrete alternative. Styro's general manager, Walid Wakim, said the firm was in discussions with cinema operators to market its product as a tool to raise cinema platforms.
October 2018, meanwhile, saw UAE cinema operator Majid Al Futtaim revealing a billion-dirham programme to develop 600 cinema screens in Saudi Arabia. The $544.5m (AED2bn) push will also drive Saudisation as the projects are developed over the next five years, Majid Al Futtaim Cinemas' chief executive officer, Cameron Mitchell, said.
Speaking alongside Mitchell at the Mena Cinema Forum in Dubai, Novo Cinemas' CEO, Debbie Standord-Kristiansen said that her team – which currently operates 124 screens and 19,000 seats – would also expand in Saudi Arabia.
"Although I do not have a budget in my mind, [we] could potentially operate 1,000 cinema screens five years down the line, depending on how the market evolves," the boss of Novo Cinemas said, commenting on Saudi Arabia's cinema development plans.
QIDDIYA ENTERTAINMENT CITY
It's not every day – or even every decade – that a project twice the size of Florida's Walt Disney World Orlando theme park is planned, but Saudi Arabia is, in fact, on its way to building exactly that – an entertainment mega-city.
The 334km2 Qiddiya, located 40km from Riyadh, is being backed by Saudi Arabia's sovereign wealth vehicle, Public Investment Fund. Ground broke on the project in April 2018, with Saudi Arabia's Custodian of the Two Holy Mosques, King Salman bin Abdulaziz Al Saud, patronising the event.
Planning and design work was completed for Qiddiya in 2018, and implementation work for the scheme will begin in 2019, according to chief executive officer of the scheme's vehicle, Michael Reininger. In conversation with local daily Arab News, Reininger added that construction timeline details would be revealed "in due course".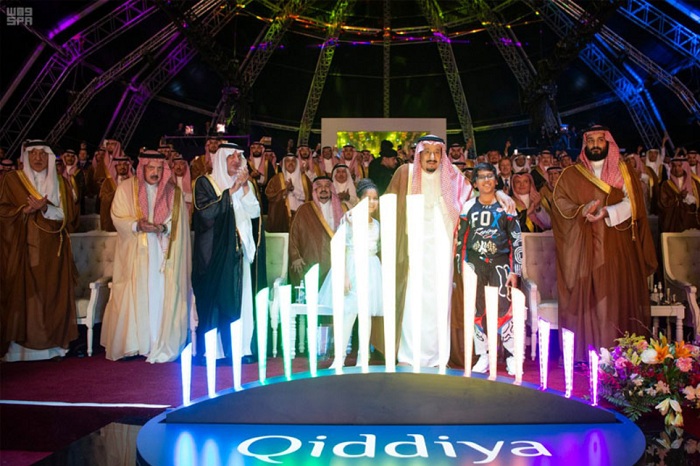 When it is complete, Qiddiya will feature numerous hospitality, amusement, and entertainment facilities, many of which will be regional firsts. Commenting during Qiddiya's launch in 2018, Reininger said the development would feature facilities such as amusement parks, game cities, racing fields, and safaris – all in addition to training academies, desert and asphalt tracks for motor sports enthusiasts, water and snow recreation activities, and historical, cultural, and scientific activities.
Qiddiya's highlight, however, will be a Six Flags-branded theme park, which will also be the first facility of its kind in Saudi Arabia. Additional details of the theme park have yet to be revealed, but Saudi press agency, SPA, reported in October 2018 that Crown Prince HRH Mohammed Bin Salman had met Six Flags' senior vice president of international park operations, David McKilip, in the US.
BAHRAIN'S UNDERWATER THEME PARK
The once-fantastical concept of floating homes is becoming a reality thanks to Dubai – now, Bahrain has revealed plans to redefine 'underwater entertainment'.
An underwater theme park is to be developed in Bahrain over the next 12-24 months as the kingdom, like its Gulf neighbours, pursues a policy of long-term economic diversification. The underwater theme park in Bahrain will see government organisations such as Supreme Council for Environment and Bahrain Tourism and Exhibitions Authority working with the private sector on the development.
Their partnership will see the development of numerous underwater elements, such as "a replica of a traditional Bahraini pearl merchant's house", according to ProTenders. Also included in the design are artificial coral reefs and sculptures made from eco-friendly material.
However, the standout feature of Bahrain's submerged entertainment project will be a 70m-long Boeing 747 aircraft. HH Shaikh Abdullah bin Hamad Al Khalifa, personal representative of Bahrain's HM King Hamad, said the 10ha project will function as a dive site, and be the home of the decommissioned Boeing plane that is "the largest aircraft ever to be submerged".
Source: www.constructionweekonline.com