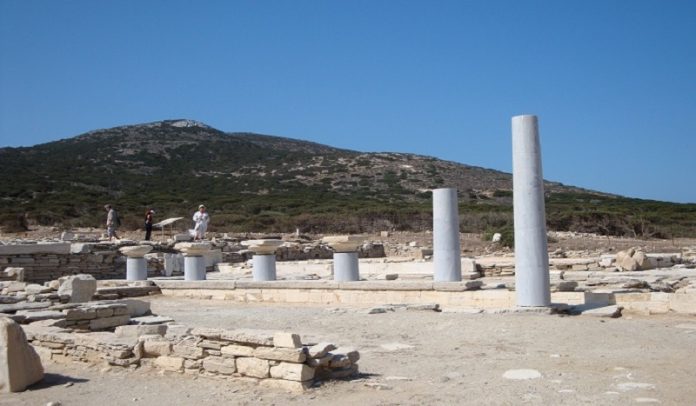 Two islands of the Cyclades in Greece, have long been famous for their marble riches – but equal treasures were recently found on tiny, neighboring isle of Despotikó.
Considered to be the birthplace of twin gods Apollo and Artemis, ancient Greece's majestic port of Delos stands protected by the Cyclades, or circular islands. As the halfway point in the Aegean Sea between trading centers in Athens and Crete, this "sacred" Greek island of Delos became a frequent stop for sailors and pilgrims seeking to pay their respects at Apollo's temple.
Just south of Delos is the island of Paros. Its semi-translucent, snow-white marble earned its distinction as "the most prosperous and greatest of the Cyclades" by Greek historian Epiphoros. Archaeologists estimate that 80 percent of Greek antiquities – including the Winged Victory of Samothrace and Venus de Milos – were sculpted from marble slabs sourced on Paros. A prized resource, the marble was mined both for Delos' famous statues and as a trading product.
On the neighboring, nearly uninhabited island of Despotikó, archaeologists have recently uncovered another one of ancient Greece's most sublime sanctuaries. Upon sailors' safe return from the sea, citizens of Paros would build small chapels out of the island's marble and offer gifts of honey, wine and small calves to the gods. "These sanctuaries were important for sailors and captains, since their temples served as lighthouses along the commerce route," explained Paros-based guide Christina Fokianou. "Despotikó was probably the second-most important sanctuary in the Cyclades after Delos in terms of power and strength," she said.
Despotikó was indeed an important sanctuary – for its power, its strength and, perhaps, its archaeological treasure. After Despotikó's single inhabitant noticed the Byzantine coin in his goat pen in 2010, archaeologists uncovered more than 6,000 architectural pieces in the walls of the pen alone. Little did the shepherd know that the walls of his goat pen were constructed from archaic building remnants. Archaeologist and Despotikó's director of excavation, Dr. Yannos Kourayos, unearthed 85 pieces of statues and more than 200 pieces of pottery inscribed with the name "Apollo". Discovering the sanctuary's pièce-de-résistance, however, required a deeper dig. Archaeologists uncovered seven 12.5-foot-tall Parian marble-covered columns, forming one of Apollo's 22 temples across the Cyclades.
The Parians dominated the sanctuary of Apollo on Delos in the mid-sixth century B.C. before building a sanctuary of their own on Despotikó – which Kourayos believes may be even larger than the one on Delos. "Paros was very powerful at that time and had the money to create this sanctuary far away from the city," Kourayos explained. "They wanted to have control of the Aegean."
Kourayos and his team are currently in the painstaking process of reconstructing the sanctuary, towing in Naxian marble slabs on ferries, since the mining of Parian marble is now prohibited. "These 400-foot-deep marble quarries are archaeological sites and considered monuments", Kourayos says. "They're pieces of art." For the Greeks, the quarries are just as much of a national treasure as the Parian marble-constructed Acropolis itself. And as for the shepherd on Despotikó, he's fortunate he spotted the Byzantine coin.
Source: nationalgeographic.com