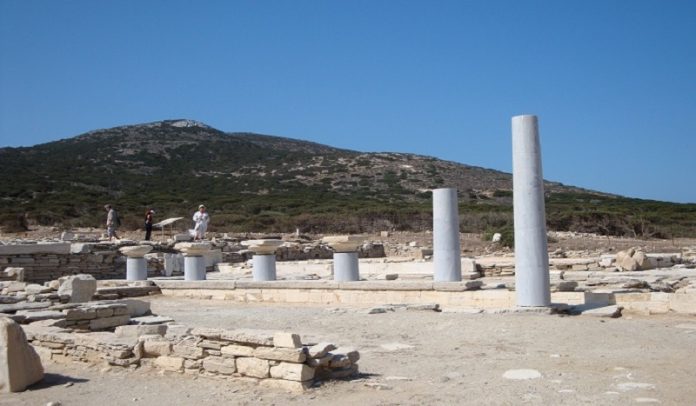 Two islands of the Cyclades in Greece, have long been famous for their marble riches – but equal treasures were found on tiny, neighboring isle of Despotikó.
Considered to be the birthplace of twin gods Apollo and Artemis, ancient Greece's majestic port of Delos stands protected by the Cyclades, or circular islands. As the halfway point in the Aegean Sea between trading centers in Athens and Crete, this "sacred" Greek island of Delos became a frequent stop for sailors and pilgrims seeking to pay their respects at Apollo's temple.
Just south of Delos is the island of Paros. Its semi-translucent, snow-white marble earned its distinction as "the most prosperous and greatest of the Cyclades" by Greek historian Epiphoros. Archaeologists estimate that 80 percent of Greek antiquities – including the Winged Victory of Samothrace and Venus de Milos – were sculpted from marble slabs sourced on Paros. A prized resource, the marble was mined both for Delos' famous statues and as a trading product.
On the neighboring, nearly uninhabited island of Despotikó, archaeologists have uncovered another one of ancient Greece's most sublime sanctuaries. Upon sailors' safe return from the sea, citizens of Paros would build small chapels out of the island's marble and offer gifts to the gods.
Despotikó was indeed an important sanctuary – for its power, its strength and, perhaps, its archaeological treasure. After Despotikó's single inhabitant noticed the Byzantine coin in his goat pen in 2010, archaeologists uncovered more than 6,000 architectural pieces in the walls of the pen alone.
Discovering the sanctuary's pièce-de-résistance, however, required a deeper dig. Archaeologists uncovered seven 12.5-foot-tall Parian marble-covered columns, forming one of Apollo's 22 temples across the Cyclades.
For the Greeks, the quarries are just as much of a national treasure as the Parian marble-constructed Acropolis itself.
Source: nationalgeographic.com