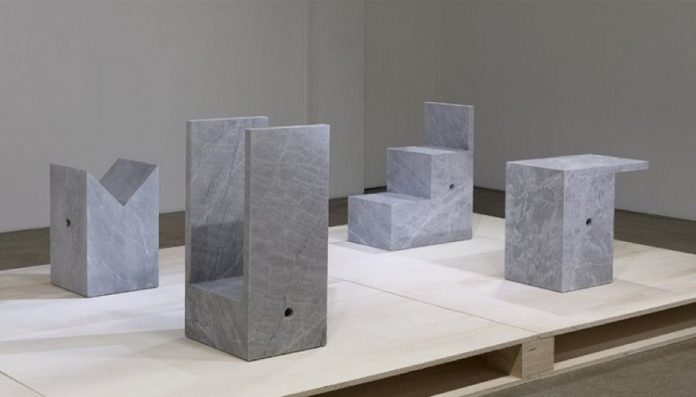 Blurring the line between sculpture and design, Konstantin Grcic presents 'Volumes', a collection of six monolithic marble objects at Galerie Kreo in London. Diverging from his usual practice, the pieces have been sculpted from a block of bleu de savoie marble rather than constructed from it. 'I instantly thought of these objects as made out of stone,' says the designer. 'As such they are cut away from a solid block rather than built up from different elements and components, which is my normal way of thinking and doing.'
Hinting at functions that are unfamiliar or unknown, Konstantin Grcic's Volume collection for Galerie Kreo have no straightforward domestic function. What they do have is a hint to Αchille and Pier Giacomo Castiglioni's Arco lamp which Grcic admires—a hole that runs through the marble. As for the execution, after the blocks have been cut into its desired shape, the surfaces have been sandblasted to recreate the stone's natural and grainy texture.
'There is an inherent contradiction in this man-made naturalness that is both appealing and mystifying, befitting the question around what these objects are designed to do,' says Johanna Agerman Ross, curator of twentieth century and contemporary furniture and product design at the Victoria & Albert Museum in London.
Volumes by Konstantin Grcic is on show in Galerie Kreo London from 8th June to 22nd September 2018.
Source: www.designboom.com