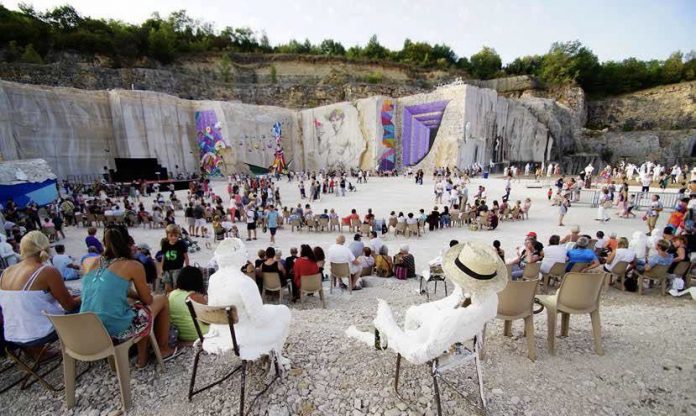 The site in a village of 140 citizens about 30 km from Dijon attracts some 25.000 visitors per year / Summer art festival in August 2018
It is hard to imagine what would have been lost if the quarry (French: la carrière) in the French village of Villars-Fontaine about 30 km from Dijon would have been filled up as planned after its closing in 2003. Nowadays under the name of La Karrière it is a showplace for art in the countryside: this year from August 19 to 26 the festival will have several presentations, among them an open-air cinema with the more than 20 m stone walls as screen.
It was the Comblanchien limestone which had been quarried here. It had been used e.g. in the pedestal of the Statue of Liberty in Manhattan, inside the Carlton Hotel in Cannes or in the Cathedral of Saint-Denis in the North of Paris.
Soon after closing, the quarry turned to be a dangerous site waiting for a new destination.
Then the little village of 140 citizens bought the quarry back, and later the mayor at that time, Pierre Lignier, founded the Association Vill'Art to bring new cultural life to the area. One of his ideas was also to point out the role the stone plays in the vinery culture of Burgundy – the "Climats de Bourgogne" are special wine-growing-zones which are part of Unseco's World Heritage.
"Stone, the source of the minerality of the wine from Burgundy," is the slogan.
The work which had to be done to give the quarry a restart in 2016 is briefly mentioned on the webpage: "Cleaning, securing, valorization".
Now, after two years of operation, La Karrière counts 25,000 visitors per year. The festival alone brought more than 11.000 guests. The idea of this year's summer festival is to create an "XXL setting for unlimited art".
From August 19 to 26, 2018, presentations will include Jazz, Rock, a monastery choir, art markets, light and sound shows, fireworks and much more.
Stonework will be presented by two sculptors: Serge Moret will create a cathedral-rosette, a project which will continue in the coming months, and Pierre-Alix Nicolet will sculpt human figures which might come from a Cistercian monastery.
For individual visits, the quarry is open from 10 to 17 o'clock
* in April, May, and June on Sundays and on Holidays,
* in July, August, and September from Wednesday until Sunday
* in October and November on Sundays and on Holidays.
For groups, guided tours are available.
Source: www.stone-ideas.com