A gallery clad in translucent marble creates a beacon atop the National Museum of Norway, which architecture studio Kleihues + Schuwerk has completed in Oslo.
Located alongside the Nobel Peace Centre on the Norwegian capital's waterfront, the building has a total area of 54,600 square metres and a collection of over 400,000 objects, making it the largest art museum in the Nordic countries.
Officially called the National Museum of Art, Architecture and Design, the building is the result of the merging of the National Gallery, the Museum of Decorative Arts and Design, the Museum of Contemporary Art and the National Museum of Architecture in 2003.
Kleihues + Schuwerk was established specifically to complete the museum. The studio consists of Berlin-based firm Kleihues + Kleihues and the eponymous Naples-based office of architect Klaus Schuwerk who served as the main architect.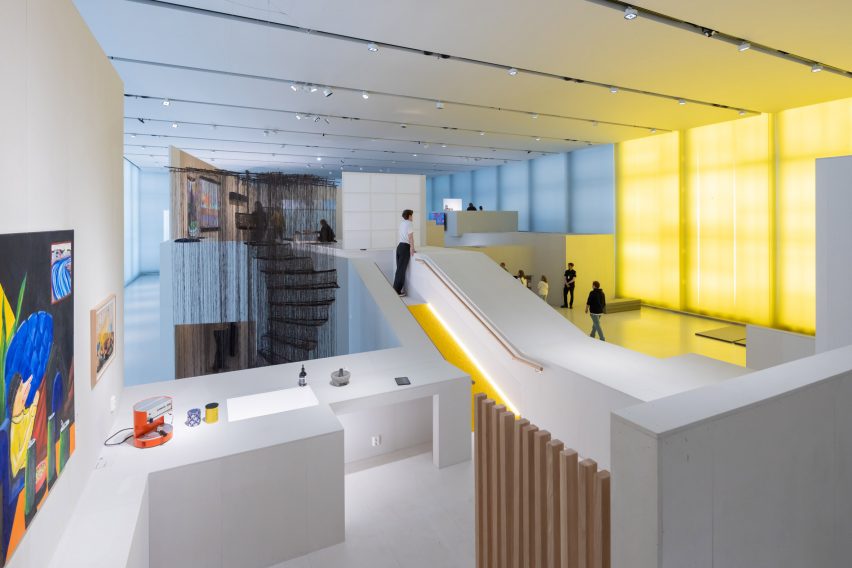 The team's design for the museum was developed using a proposal by Schuwerk, which was selected through an international competition in 2010.
It focuses on the concept of creating a monumental temple-like structure finished with "timeless" materials.
"A museum is of course in a sense the temple of our time, and it sounds pretentious, but I've always wanted to design my own Pantheon," Schuwerk said.
"Designed with the perspective of housing artworks for centuries, the museum is built with clean and robust materials that will age with dignity, such as oak, bronze and marble," added the studio.
The L-shaped plan of the National Museum of Norway, which is clad entirely in Norwegian slate tiles, wraps existing structures on the site and creates a central paved courtyard that blends with the surrounding streets.
A total of 86 rooms across two storeys house the museum's permanent collections. Their interiors feature light ceilings, wooden floors and windows that frame views of the city and internal sculpture courtyards.
A cafe faces onto the central courtyard, alongside a museum shop that is housed in an existing 19th-century building on site.
Capping the National Museum of Norway is a space for temporary exhibitions, described by the studio as a "light hall". It is clad in sheets of translucent marble and glass and illuminated at night like a beacon.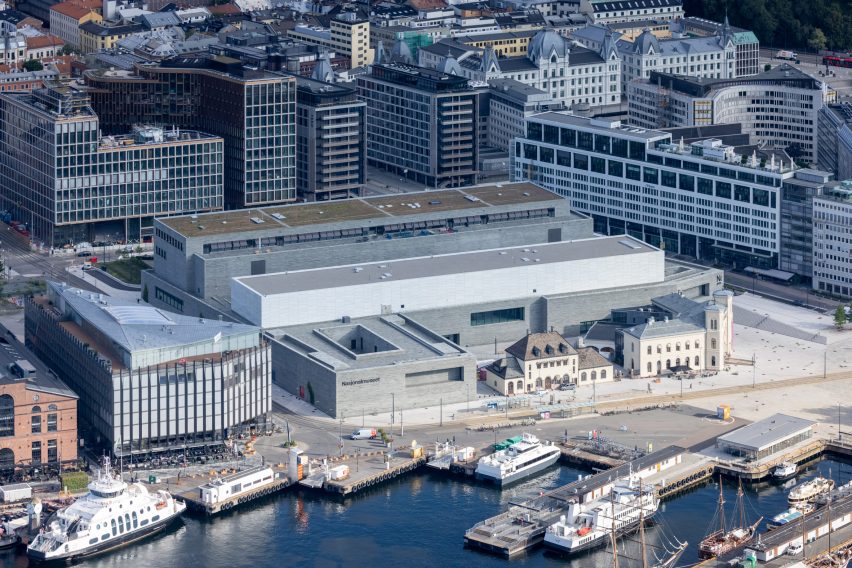 With seven-metre-high ceilings, this space is designed for the display of large-scale sculptures or installations. It connects to a public roof terrace that overlooks the city and harbour.
Oslo's waterfront has also seen the recent addition of the new Deichman Bjørvika central library, designed in 2020 by Atelier Oslo and Lundhagem.
In 2021, Estudio Herreros completed a 13-storey museum dedicated to Norwegian artist Edvard Munch.
Source: www.dezeen.com