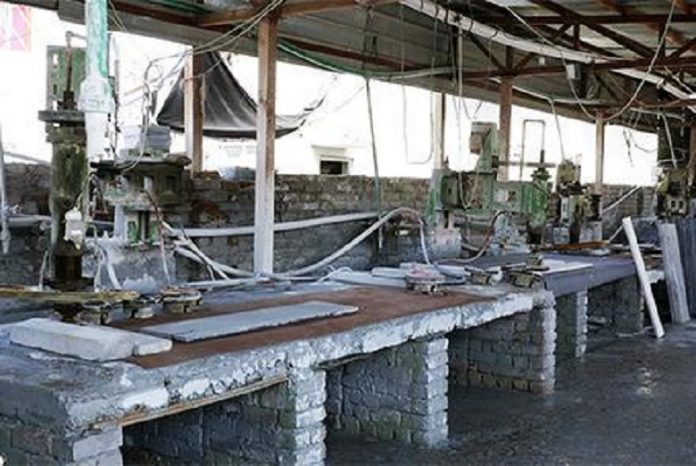 Factory owners have blasted government for not resolving mining contracts which has led to a crisis in the marble industry.
Some owners of marble processing factories on Saturday said due to problems with marblemining contracts, they are dealing with a lack of raw materials and many have been forced to close their factories and leave the country.
Some factory owners moved their businesses from Pakistan to Afghanistan in the past two years. However, many say they regret this decision as they now face a lack of raw material and many other problems.
The Marble Stone Association in Kabul said there are 13 marble processing factories in thecity, but none of them are active due to lack of raw material.
According to the association, at least three marble factory owners have decided to close their factories and move them to Uzbekistan.
Sarajuddin Kamali, the head of the association, said workers at these 13 factories have also been badly affected and that out of 400 employees, 220 have been laid off.
"The policy of the mines ministry is zero. The Ministry of Mines has not had any policy in place in the last three years. The acting minister is not ready to talk to us. It is all words but no action by the ministry," said Kamali.
Sultan, the owner of one marble factory said due to the lack of raw materials he has had to stop operations at his factory for the past six months.
Sultan said he moved his factory from Pakistan to Afghanistan two years ago but now regrets the decision.
He said he has incurred losses of four million AFs in the past six months and has had to lay off 30 of his workers.
"This problem will not be solved; therefore, we will suffer. We do not want to suffer further losses here. We want to go back to the neighboring country," said Sultan.
Sultan's brother Hejran who works at the factory has Canadian citizenship. He said due tothese problems he is now thinking about returning to Canada.
"My friends used to advise me not to go to Afghanistan. I told them that it is my country and I want to serve my nation by creating jobs for the people. But now I see that those who worked with us are decreasing in numbers," said Hejran.
The Ministry of Mines and Petroleum meanwhile said they will soon call for bids for tendersof a number of marble quarries and that once contracts have been signed, companies will start extracting the marble for factories.
According to the ministry, they will soon finalize the process and 10 contracts will be awarded to companies to mine both marble and talc quarries. Their plan will go through to the High Economic Council and once approved, they will put the contracts out to tender.
"We are ready to sign contracts in this respect. We will provide the ground for those companies which have the capacity in this sector. One important issue is that they should have the ability of processing and extracting the mineral resources," Abdul Qadir Mutfi, said the ministry's spokesman.
"They say that they are studying the contracts so that a roadmap is prepared. This roadmap and studies have been delayed too long. What we need is a project with easy conditions for contractors. The problems for the stone industry must be solved," Rahim Samandar, chief operating officer at the Chamber of Industries and Mines said.
According to the Marble Stone Association, only four marble extraction projects are active in the country and that this can only meet the raw material requirements for four processing factories – while there are over 150 factories in the country.
According to the association, if government does not resolve problems in this regard, the factory owners will disinvest in the country. According to the association, the investment total in marble processing facilities is estimated to be worth about $50 million.
Source: www.tolonews.com