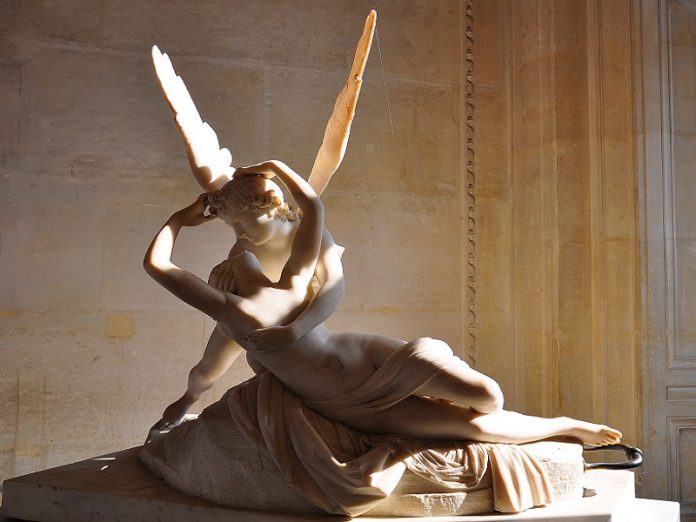 "Psyche Revived by Cupid's Kiss" by Antonio Canova shows the mythological lovers at a moment of high emotion. It represents the God Cupid in the height of love and tenderness, immediately after awakening Psyche with a kiss. Having been awakened, Psyche reaches up toward her lover, Cupid, as he gently holds her by supporting her head and breast.
This sculpture exemplifies Antonio Canova's craftsmanship and skills in carving marble that provides a superb contrast between the smooth skin of Psyche and Cupid as compared to the surrounding elements.
The detached draping around Psyche's lower body, emphasizes the difference between the texture of skin and drapery. Beautiful curls and lines define the hair, and the feathery details create the realistic wings of Cupid. The rough stone texture provides the basis of the rock upon which the composition is placed.
"Psyche Revived by Cupid's Kiss" was first commissioned to Canova in 1787 by a British art collector and politician. This first version of the sculpture eventually became part of the Louvre Museum in Paris, France. In 1796, a Russian nobleman acquired the 2nd version from Canova in Rome, and it later entered the Hermitage Museum in Saint Petersburg.
Source: joyofmuseums.com