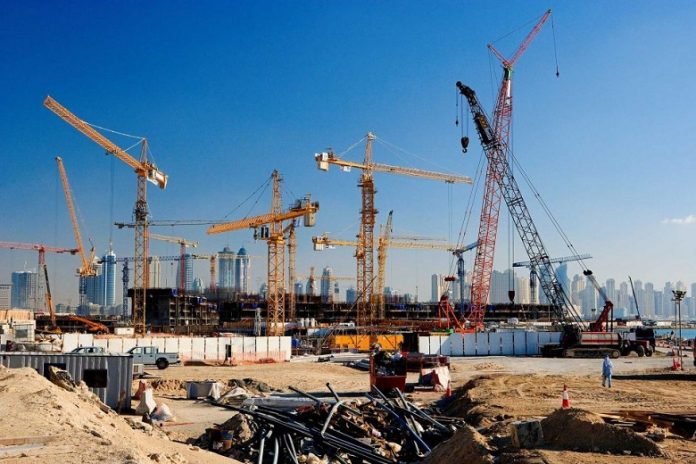 New research says the UAE will award a third of the region's construction contracts this year
Rising oil prices and increased government spending is fuelling demand in the GCC's construction sector, with contractor awards across the region's markets expected to be worth $148.7 billion in 2018, according to a new report.
Research specialists Ventures Onsite said the UAE will remain as the undisputed leader in the GCC total construction contractor awards for the year.
In 2018, an estimated $79.1 billion worth of construction contractor awards will be attributed to buildings in the Gulf region, followed by energy projects ($44.9 billion), and infrastructure ($24.6 billion).
The total value of expected construction contractor awards in 2018 is slightly up on the 2017 figure ($147.8 billion), according to Ventures, as economic activity picks up across the region amid a revival in non-oil sector growth and broad fiscal reforms.
According to Ventures, the UAE will hold a 33 percent share ($50.4 billion) of the Gulf region's total construction contractor awards in 2018, followed by Saudi Arabia, with a 27 percent share ($40 billion).
The buildings segment will register the most growth year-on-year, with the UAE leading the way here as well. The expectedS$79.1 billion of building construction contractor awards across the GCC in 2018 is 10 percent up on the previous year, with the UAE comprising $37.3 billion of that figure.
The report has been released ahead of the Hardware + Tools Middle East 2018 trade fair, which takes place next week at the Dubai International Convention and Exhibition Centre.
The three-day event is the Middle East's only dedicated exhibition for tools, hardware, materials, equipment and machinery, and is expected to feature 115 exhibitors showcasing 180-plus brands targeting the region's revived construction sector.
Source: www.arabianbusiness.com