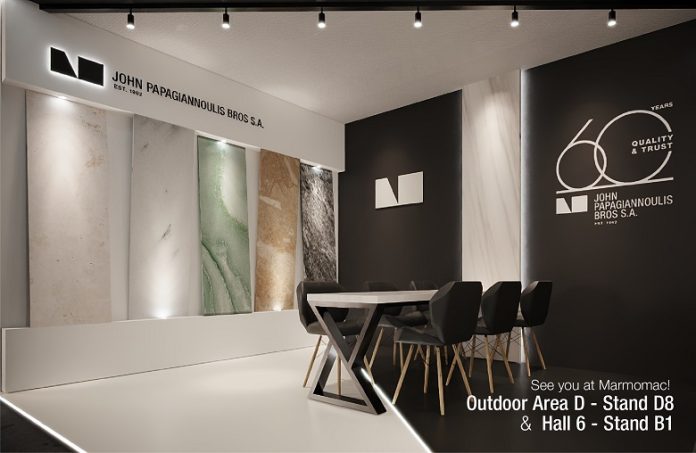 Join us at Marmomac 2023 as we celebrate 60 years of quality & trust in Greek marble craftsmanship. John Papagiannoulis Bros S.A. returns to this prestigious event, bringing a wealth of experience and innovation to the world of natural stone. Discover our legacy and explore new materials at our expanded outdoor booth (Outdoor Area D – Stand D8) and indoor space at Hall 6 (Stand B1), marking an exciting change from our previous participations.

60 Years of Excellence:
Established in 1962, John Papagiannoulis Bros S.A. has upheld the highest standards in the marble industry for six remarkable decades. Known for our iconic JPAPA Volakas & Thassos marble, from our owned quarries and our dedication to excellence both at our quarries in Northern Greece and our plant in Athens, we've become a global leader, synonymous with quality and trust.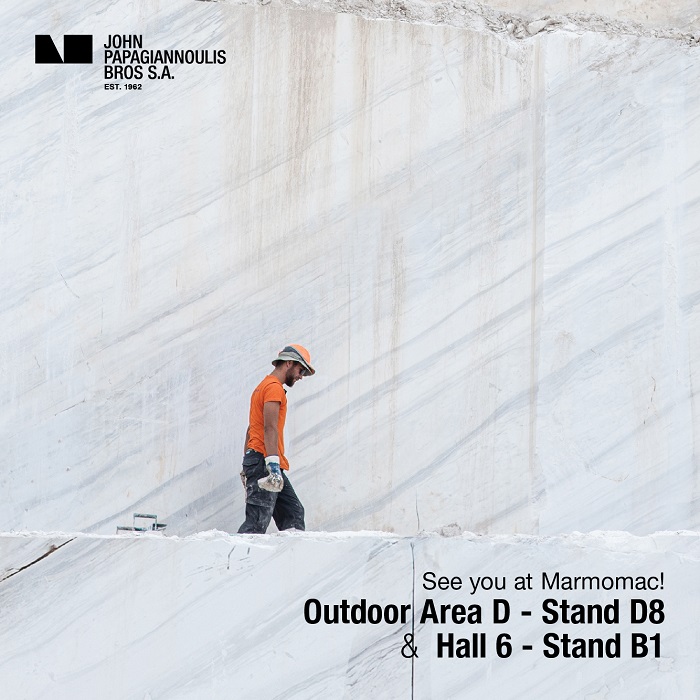 Booth Locations:
This year, find us at two strategic locations:
– Outdoor Area D – Stand D8 (Expanded): Witness blocks from our owned quarries in Volakas and Thassos, a hallmark of our legacy.
– Hall 6 – Stand B1: Explore our indoor booth, showcasing select exciting materials alongside our signature JPAPA products.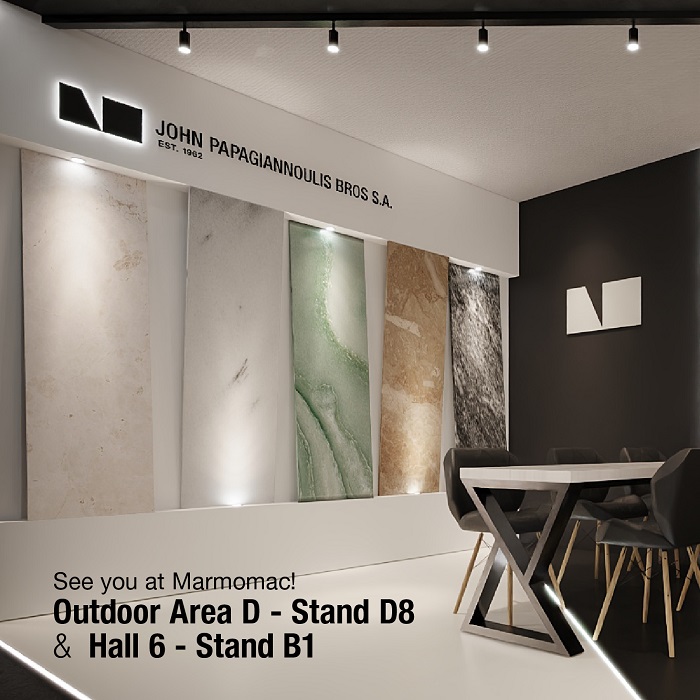 What to Expect:
At both locations, you'll encounter an exquisite array of marble options, from the timeless elegance of Volakas to the brilliance of Thassos. Our experts will be on hand to discuss your project needs and help you navigate our expanded offerings.

Join Us at Marmomac:
Save the date for Marmomac 2023, taking place from September 26 to 29 in Verona. Experience the enduring beauty and quality of Greek marble, and discover how our materials can elevate your architectural visions. It's a new chapter in our journey of excellence, and we look forward to welcoming you.

John Papagiannoulis Bros S.A. invites you to be part of our enduring legacy in Greek marble craftsmanship at Marmomac 2023. With 60 years of excellence behind us and a world of possibilities ahead, we're excited to shape the future of the natural stone industry together. See you at Marmomac!
When: 26 – 29 September 2023, daily 10.00 – 18.00 
Where: Two locations this year! Outdoor Area D – Stand D8 and Hall 6 – Stand B1, Marmomac, Verona fiere
What: John Papagiannoulis Bros S.A. and premium white and colored Greek marble Learn more about the company at www.papagiannoulis.gr