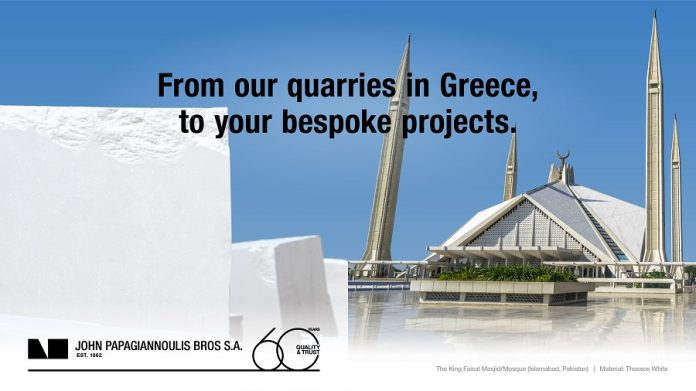 John Papagiannoulis Bros SA will participate this year at the Middle East Stone fair, which is part of the Big 5 UAE Building and Construction trade show, with a booth showcasing its material from the company's internationally acclaimed quarries in Volakas and Thassos and select marble varieties.
A company with a strong reputation and brand name, which is celebrating its' 60th anniversary this year, and known for its' values of Quality & Trust, John Papagiannoulis Bros SA has been exporting fine Greek Marble and select natural stone across the world for decades and stands steadily by its' promise to its' partners: high quality material, client oriented philosophy and collaborations based on honesty and trust, a visionary approach towards the future and a commitment to constant development and sourcing of the best material for each project.
Indicative projects John Papagiannoulis Bros SA has undertaken in the Middle East region are the following: The Palace of King Fahd in Hail (Hail, Saudi Arabia), The Palace of Sheikh Abbar in Jeddah (Jeddah, Saudi Arabia), The King Faisal Masjid/Mosque (Islamabad, Pakistan), Mecca (Mecca, Saudi Arabia), The Chamber of Commerce and Industry in Abu Dhabi (Abu Dhabi, UAE), The National Housing Authority (Al Rabia, Kuwait), The Hilton Kuwait Resort (Salmiya, Kuwait), The Nurses Housing & Hospital complex (Libya)
Meet John Papagiannoulis Bros SA and its' signature JPAPA material and philosophy at the company's booth at Za'abeel 6 – Z6 D48.