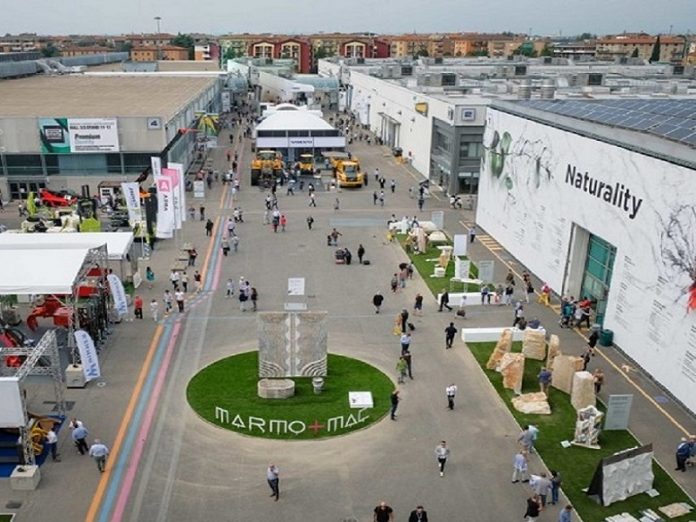 Special edition scheduled at Veronafiere 30 September-3 October 2020 to relaunch the natural stone value chain 
The recovery of the natural stone sector starts off from Marmomac. The landmark international event for the natural stone industry confirms its 2020 appointment at Veronafiere 30 September-3 October 2020. In support of a supply chain which in Italy boasts 3000 companies and turnover worth 2.6 billion euros (of which 1.8 millions from exports), the exhibition in Verona launches its "Marmomac Re- Start 2020" project. This special edition seeks to relaunch the natural stone sector towards a "new normal" in the post COVID-19 emergency period. The world of marble, granite, processing technologies and design was severely tested by the lockdown, coming in the wake of 2019 results themselves already highlighting a downturn, posting -7% for exports of processed products made in Italy. 
Consequently, the aim of "Marmomac Re-start 2020" is to provide exhibitors and specialized visitors with an exhibition format that is even more tailored to the renewed needs of business and internationality, in complete safety from a health point of view and with even more services and customised a endance rates. Thanks to targeted incoming activities in collaboration with the international network of the ICE- Italian Trade Agency, the intention is to a ract operators and buyers from all over the world to the trade fair in Verona in October: a target that should be reached starting from its European core, today virtually assured, followed – as borders are progressively re-opened – with the involvement many other countries and full internationality. And to ensure connection with non-EU markets that may still be unable to attend because of restrictions, Marmomac is also developing innovative tools to make virtual b2b meetings possible. 
"Through Marmomac Re-Start," explained Giovanni Mantovani, CEO of Veronafiere, "we aim to assure the most important natural stone community in the world that we have promoted for the last 55 years a 2020 edition in total safety hallmarked by resumption that we can share with clients, exhibitors and operators in response to the challenge that the sector is called upon to tackle. The Verona-system and, more generally, the country-system as such thereby seeks to ensure that the recovery for the stone industry starts off from Italy, where Veronafiere organizes the leading sector event." 
As regards the layout of the exhibition, certain aspects are confirmed and others are new. "The Italian Stone Theatre" returns as the event narrating the interaction between natural stone, projects by major international architecture studios and innovative processing technologies developed in Italy. On the other hand, there is a change to the layout of the show, with entrance through the new Re Teodorico Gate, the use of Halls 6, 9, 10, 11 and 12, and outside areas B, D and Avenue E. This logistics solution was also studied in accordance with the #safebusiness safety protocol developed together with other major national trade fair operators.