The regional hubs of Dubai and Singapore are forecast to top the global price growth charts in 2023. Both cities will continue to benefit from sustained inflows of high-net-worth individuals, but are not immune to higher interest rates and wider economic headwinds. Dubai's forecast prime price growth of between 6 per cent and 7.9 per cent, for example, is muted compared with the 12.4 per cent growth it recorded in 2022.
Similarly, Miami's predicted prime capital value growth of between 4 per cent and 5.9 per cent, driven by a lack of supply at the top end of the market, is a significant downgrade on the 25.4 per cent growth it recorded last year.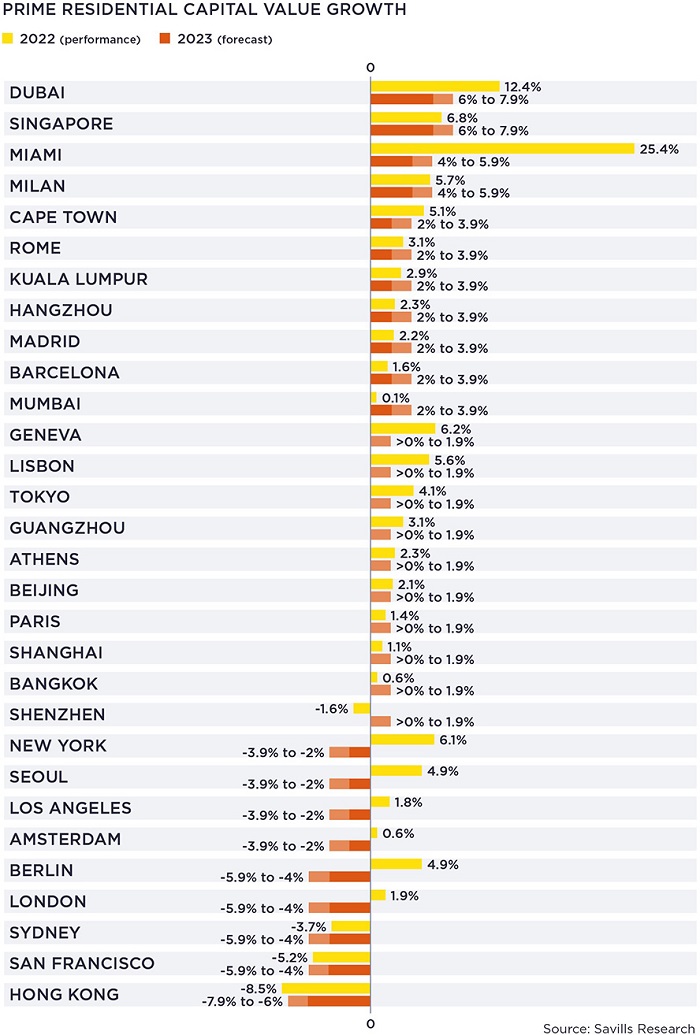 Price falls forecast in mature, global city hubs
Major global hubs benefitted in the wake of the pandemic, as borders reopened and demand for city living returned, but many will be unable to sustain this in 2023.
Suffering from weaker sentiment associated with higher interest rates and the challenging economic backdrop, the prime residential markets of New York, San Francisco, Los Angeles, Seoul, Amsterdam, Berlin, London, Sydney and Hong Kong are all forecast to decline this year.
However, a general shortage of stock will put a limit to any potential falls in value.
Slowing tech and business services sectors will compound macroeconomic factors for San Francisco (-5.9 per cent to -4 per cent in 2023) and New York (-3.9 per cent to -2 per cent in 2023). Although Seoul and London will see falls, they will be more modest than those expected in their mainstream markets, due to a shortage of prime supply.
Growth in southern European cities slow, but positive
Low to modest levels of capital value growth are forecast in the southern European cities of Lisbon, Athens, Rome, Milan, Barcelona and Madrid, where prime property is particularly coveted in times of economic turmoil as a safe haven asset and inflation hedge. Regulations contribute to low levels of new supply, especially in Barcelona, where new prime projects are now struggling to get built.
Buoyant rental markets make these cities appealing to investors. Lisbon, a star performer in 2022, looks set to see continued but slower growth, as it attracts a broader base of international buyers in 2023. Southern Europe's top performer in 2022, Milan, is expected to cement its position in 2023, with a price growth of between 4 per cent and 5.9 per cent.
Challenges in China
Chinese cities will have a difficult start to the year, as the country transitions away from its zero Covid-19 policy. Transaction volumes hit new lows last year and the developer debt and real estate financing clampdown, coupled with the economic slowdown, have hit sentiment. Nevertheless, growth of up to 3.9 per cent is forecast in the five mainland Chinese cities we monitor, which is comparable to 2022 levels.
Global macro conditions and a weaker mainland China will have a big impact on Hong Kong's prime residential market, with falls of between -7.9 per cent and -6 per cent expected. Despite this, it will remain the world's most expensive prime residential market.
Source: Savills