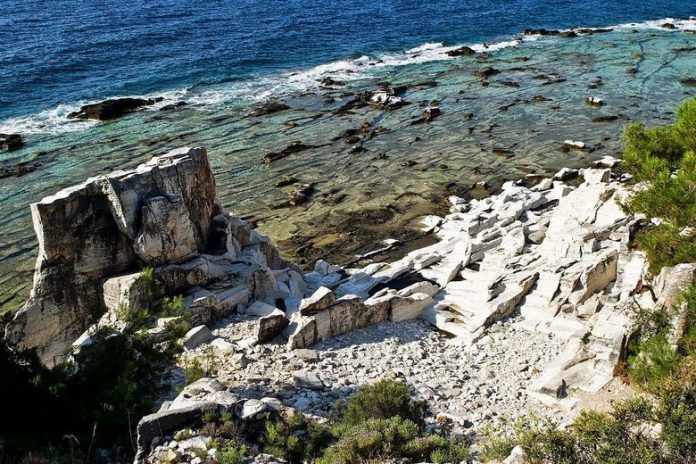 The partially submerged ruins of a white marble quarry used in ancient Greece for over 1,200 years.
White marble was highly sought-after in ancient Greece, considered purer and more desirable for building temples and monuments. There was much of it throughout the country, but most of it was located in the mountains where it was extremely difficult to extract and transport.
One non-mountainous area where high-quality white marble was plentiful was on the southernmost point of the Aliki peninsula, on the island of Thassos. Since this marble was on the coast and could be loaded directly on boats, the Aliki quarry became one of the primary sources of white marble in ancient times.
Marble extraction at the Aliki quarry began in the 7th century BCE and operated continuously for over 1,200 years, up until the end of the 7th century AD when the quarry was abandoned during the Slavic Invasion of Greece. The mining operation required hundreds of carpenters, blacksmiths, sculptors, and general laborers, and for a long period of time these jobs were performed by slaves, prisoners of war, or criminals sentenced to life imprisonment. These workers cut, carved, and loaded the marble with hoists and drums onto boats that transported it all over the Mediterranean.
The ruins of the quarry can be found today on the tip of the peninsula, partially submerged in the sea. Evidence of the ancient mining is still visible at the site, where there are numerous abandoned, semi-finished marble sculptures, columns, and giant blocks that can be seen in the quarry and the shallow water. Along the perimeter of the quarry, you can also see the ruins of hundreds of guard towers that were used both to keep the forced labor in the quarry and protect the workers and the marble from pirates and other thieves.