In 2022, the total export value of global goods reached nearly $25 trillion.
With the evolution of international trade, the effects of globalization, and progress in technology, global trade has increased by around 300% over the last 20 years.
This visualization by Truman Du uses data from the World Trade Organization (WTO) to chart the world's top exporters by country.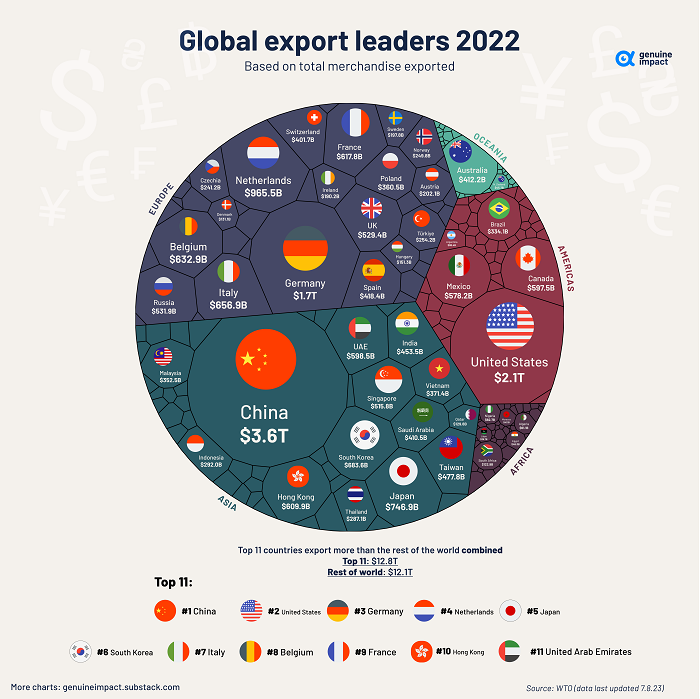 The world's largest 11 exporters shipped out $12.8 trillion of goods in 2022, more than the rest of the world combined ($12.1 trillion).
The list is headed by China, with $3.6 trillion or 14% of total exports. The country has been the largest exporter of goods in the world since 2009.
Mexico Surpasses China as America's Largest Trading Partner
China has built up significant trade relations with the European Union and the United States, two of the world's largest markets for goods.
However, recent trade tensions have led to China losing its status as the United States' biggest trading partner in 2023.
Mexico has now overtaken China as the largest seller to the United States. This shift in trade dynamics is part of a broader effort by the U.S. to import goods from closer to home and reduce its dependence on geopolitical rivals.
The U.S. itself is the world's second largest goods exporter, with over $2 trillion annually.
Canada was the largest purchaser of U.S. exports in 2022, accounting for 17% of total exports, followed by Mexico, China, Japan, and the United Kingdom.
The top exports of the United States are refined petroleum, petroleum gas, crude petroleum, cars, and integrated circuits.
The Regional View of Exports by Country
From a regional perspective, it's clear Asia dominates the trading market with over 36% of the total exports, followed by Europe with 34%.
While Asian, European, and North American countries have manufactured and technology products among their main exports, African and South American countries mostly export commodities such as oil, gold, diamonds, cocoa, timber, and precious metals.
A New Era of Deglobalization?
International trade grew immensely at the beginning of the 21st century, from $15.6 trillion in 2001 to $40.7 trillion in 2008.
Since then, protectionist trade policies such as taxes on foreign goods and import quotas have increased by 663%. Similarly, global trade as a percent of GDP has also stalled out, peaking in 2008 and going sideways ever since.
Despite many countries reducing their interdependence and integration in the post-COVID era, global exports are still set to grow by 70% between 2020 and 2030, reaching $29.7 trillion by 2030, according to Standard Chartered.
Source: www.visualcapitalist.com