Designer, photographer, illustrator, costume designer, architect, writer, and speaker, Karl Lagerfeld was an all-around artist, with the most unexpected talents and always unsheathed with a surprise effect: in 2018, it was the turn of sculpture. With the "Architectures" exhibition, the designer confronted marble and the Greek-Roman canons of beauty for a precious and impressive collection of "functional sculptures".
The centrality of marble in the collection
France's most famous designer counts among his achievements a collection of sculptures exhibited in 2018 at the Carpenters Workshop Gallery, in the Parisian Marais district. Entitled "Architectures", the exhibition featured a collection of functional sculptures created by Karl Lagerfeld and inspired by ancient times. Among the highlights of the collection, there was the imposing black marble altar-shaped table decorated with modern Doric columns on a concrete base. Tables, coffee tables, lamps, consoles, fountains, and mirrors come together in a contemporary work based on the rigor of classic proportions.
Marble is at the heart of all creations, whether it is Arabescato Fantastico, a vibrant white marble with dark gray veins that has not been quarried for over 30 years, or Nero Marquina, a black marble veined with milky white. The works are all available in a limited edition of eight copies in each marble color, plus four samples; all pieces were cut, faceted, and polished in Italy by local artisans. Karl Lagerfeld called the architect Aline Asmar of Amman to study the ideas he developed. The latter was also chosen to design the interior of the famous Jules Verne restaurant inside the Eiffel Tower by starred chef Frédéric Anton.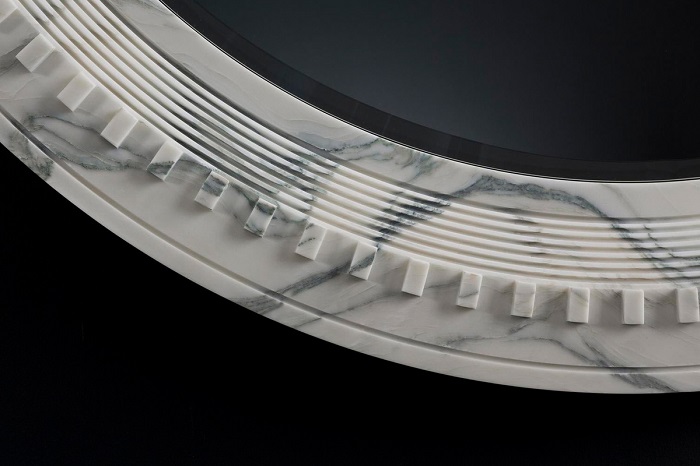 Architectures: the fantastic arabescato and the nero marquina
"Architectures" by Karl Lagerfeld is a collection of functional sculptures inspired by Greco-Roman antiquity, indicated by the designer as the origin of beauty, culture, and modernity. The installation evokes a contemporary architectural landscape, where the works combine golden proportions and the noblest of materials, marble, in perfect balance. The ensemble of architectural sculptures by Karl Lagerfeld meets the modern atmosphere of the gallery, building a kind of modern mythology.
Each piece is carved from a carefully selected block of marble: Arabescato Fantastico, a rarity of vibrant white marble with dark gray veins, and Nero Marquina marble, with milky white veins on a deep black background. Specifically, Fantastico is an Italian marble of Apuan extraction, characterized by a white background with dark darting veins interspersed with green and purple hues. It is a very fine variety of marble, of great charm, mainly used in a glossy or honed finish to better appreciate its color. The production of this marble is very limited and the blocks are of medium size, often used in combination with other gray Apuan marbles such as Bardiglio. On the other hand, Black Marquina marble is a material extracted from Spanish quarries of intense black color with a compact background.
This natural stone is crossed by irregular white or light gray veins, more or less marked, with a diagonal trend, a detail that gives this variety of marble an original and modern look, never predictable.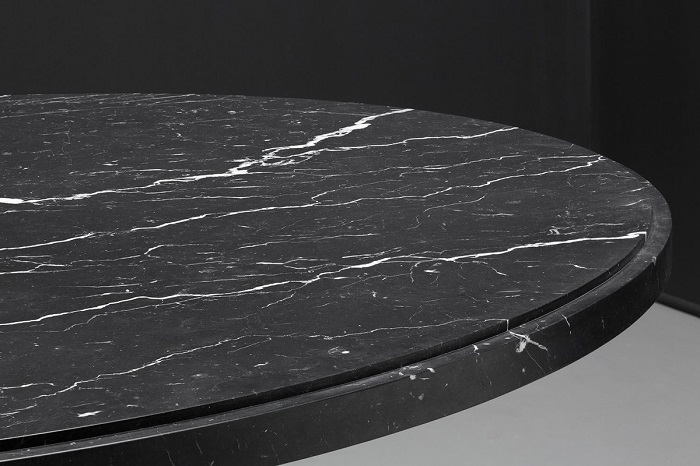 The marble architecture of karl lagerfeld
As already mentioned, Karl Lagerfeld's "Architectures" exhibition displays eight pieces for each of two limited edition marble colors, plus four samples by the artist. Each sculptural piece is made of marble, which is cut, sculpted, faceted and polished in Italy by the best craftsmen, "to obtain the vibrant exactness of the elements", among which:
Consoles inspired by the architecture of the Parthenon
Lamps, "laser blades from the future" with hand-painted lampshades
Mirrors
High and low tables.
Source: www.marmomac.com