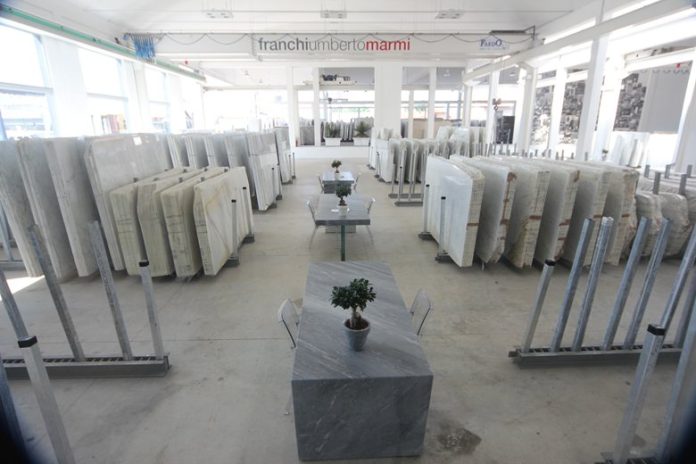 Franchi Umberto Marmi S.p.A, an internationally leading company in the
processing and marketing of Carrara marble listed on Euronext Growth Milan announces the recent acquisition of 51% of shares of RECOVERY STONE Srl, established in February 2021 from "Il Fiorino Srl" and for the moment still dormant.
The cooperation between Franchi Umberto Marmi S.p.A and Il Fiorino Srl comes from the idea of integrating some phases of the processing chain of blocks into slabs, in order to guarantee a better quality of products, directly controlling the various stages of the process.
In particular, the activities of the new company, 51% owned by FUM, will focus on the stages following the blocks sawing: meshing, resining, grouting and polishing. These are crucial activities in the process of enhancing marble slabs, whose process control is essential to ensure the maintenance of high quality standards.
RECOVERY STONE Srl will invest in innovative and robotic facilties provided with programs
consistent with the provisions of Industry 4.0, which will involve the automated handling of the treated slabs. The orders for the acquisition of the facilities have already been formalised and it is expected that the activities will start in the second half of 2022.
Alberto Franchi, Chairman and Chief Executive Officer of the Company, commented: "I'm proud to announce this new investment made by our Company, demonstrating that we want to streghten the industrial presence in Carrara for the tranformation of blocks into slabs and their subsequent enhancement. This investment is in line with the provisions of the Company's strategic plan and it will promote a continuous increase in the product transformed from blocks into slabs, also having a considerable impact on employment.
This is particularly relevant for the area since it marks the effective collaboration between two of the most important companies in the marble sector that will pool significant economic and professional resources aimed at increasing the competitiveness of Carrara products in the world. We will continue to work so that these initiatives can reoccur in the future, creating alliances and synergies that wil allow us not only to enanche our unique product but also to create a positive impact for the youth employment in our area".