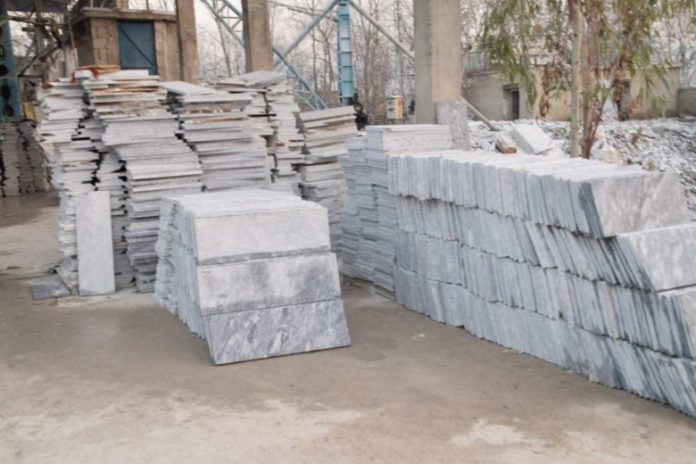 Pakistan has a rich presence of historical monuments that pay an ode to the glory of marble structures. Founder of Pakistan Mohammad Ali Jinnah's tomb in Karachi is one such compelling example.
Naturally, Pakistan is a country that has been bestowed with an abundance of precious stones and high-quality marble reserves.
According to a report by the State Bank of Pakistan, the country is one of the largest exporters of marble and marble products, and the demand for its products is on the rise in both the international and domestic markets.
"The country has access to high-quality marble reserves in KPK, FATA and Balochistan. But due to lack of modern quarrying techniques, electricity crises and bad law and order situation, marble industry continues to face challenges and losses," the report noted.
There is a rise in demand for marble across the world due to its increasing use in construction for both commercial and residential purposes. Italian and French-style mosaic artwork on precious marble is also popular in the Arab countries.
In 2010, the Trade Development Authority of Pakistan (TDAP) stated that marble and onyx reserves in Pakistan are estimated more than 300 billion tonnes.
In Pakistan, there are large deposits of precious stones and marble in Balochistan and the northern areas. As the marble discovered in the country in a raw form is not cut according to the international standards, it loses its value in the process.
Marble dealer Ajmal Khan shared that marble is brought from Balochistan to Lahore, Karachi, Islamabad and Multan via trains or trucks in the form of blocks and big stones. These stones are polished and cut later on, he added.
Generally, marble products are sold in Rawalpindi, Islamabad, Lahore, Karachi, Faisalabad, Multan, Azad Kashmir, Gilgit-Baltistan as well as Dubai, Saudi Arabia, Bahrain and Qatar. Apart from monuments, Quranic verses, flowers, leaves and utensils are also made from marble, creating mosaic artwork. It takes roughly between two days to three months to create these artefacts. After their preparation, they are packed in a special type of packaging to protect their delicate texture.
Saqib Naveed, a master of mosaic artwork, shared that he has been involved in the marble artwork since the last twenty years. Talking to The Express Tribune, he said, "When I started the artwork in marble, I wanted to do something that would please my Lord. Hence, I decided to write the Quranic verses in the form of mosaic art."
Gaining finesse in his art over the years, Naveed makes patterns having verses and drawings of flowers.
"It takes two months to create a work of art. But people do not pay for our hard work. Mosaic art is a difficult thing. It is highly valued in Italy, France, Greece, Turkey and Iran, but it is now gaining popularity in Pakistan."
To create a marble masterpiece, thousands of pieces of the stone in different colours are combined with special chemicals. Things are not as bright as they seem, the process of marble cutting also affects eyes and hands. The dust that rises during marble-cutting causes respiratory illnesses. However, it is pertinent to take precautions while producing the artwork.
A geologist, Javed, said that Pakistan is rich in natural minerals. "Marble discovered in Balochistan is wasted due to the lack of modern cutting capacity. In contrast, in China and Italy, marble is utilised through modern technology.
The government should formulate a comprehensive plan in this regard and send skilled workers to foreign countries for training so that the marble industry can be strengthened."
Source: tribune.com.pk