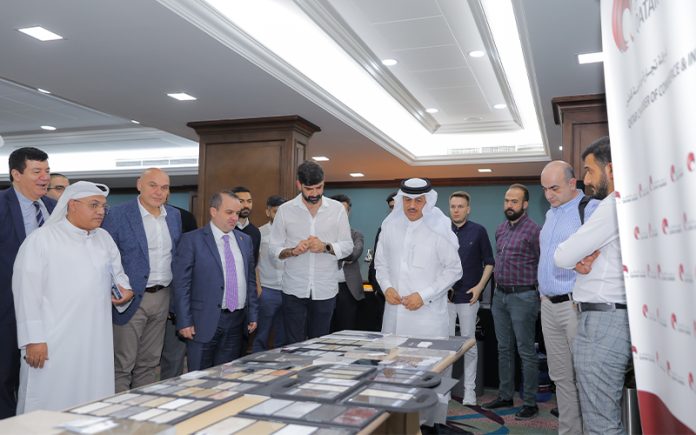 Qatar Chamber held a meeting with a Turkish trade delegation chaired by the President of the Istanbul Mineral and Metals Exporters' Association (IMMIB), HE Orcun Kocaman, in the presence of QC board member Abdulrahman Al-Ansari.
The meeting touched on enhancing cooperation relations between both entities and bolstering cooperation between the Qatari private sector and its Turkish counterpart in all sectors and means to developing trade exchange between both countries.
Addressing the meeting, Al-Ansari said that Turkey is one of Qatar's most important trade partners.
He stressed that the development of the two countries' bilateral relations in all fields is due to the presence of direct marine routes, the number of agreements signed between them and the abundance of mutual investments on both sides.
He also stressed that the industry sector is one of the fast-growing sectors in Qatar year after year, noting that this growth requests more exchange of expertise and the provision of raw materials.
He also confirmed the Chamber supports and encourages both sides to enhance cooperation and establish commercial and economic alliances, whether in Qatar or Turkey.
On his part, HE Orcun Kocaman said that Qatar is of great importance to the Association, noting that Qatar ranked 14th globally and 3rd in the GCC regions that received Turkish exports, stressing that due to the boom Qatar witnesses, there are great opportunities for companies from the Association to discuss available investment opportunities and, enter into partnerships with Qatari business owners.
He indicated that the minerals and natural stones sector is one of the leading sectors in Turkey, as the volume of Turkey's exports of minerals in 2022 amounted to about $6.47 billion, noting that Turkey comes in the fourth rank globally in marble and limestone exports.
He also said that the Association includes about 5,500 members, constituting about 46% of the total exports of Turkish minerals, and its products are exported to 57 countries worldwide.
Source: www.qatarchamber.com