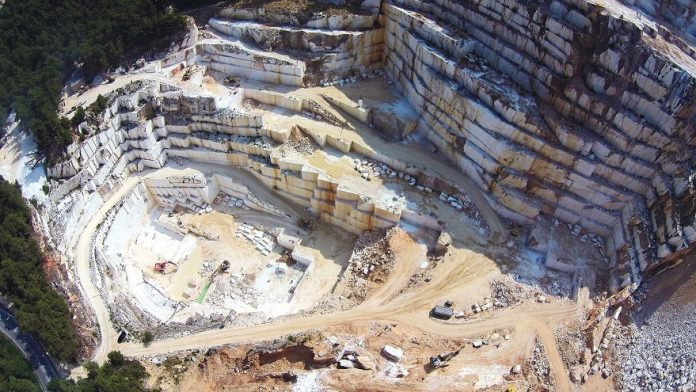 His unequivocal conviction that the size of bilateral trade between Greece and Saudi Arabia could be further widened, said Saudi Arabian State Secretary of Foreign Trade A. Bin Ahmad, in a statement to the Athenian – Macedonian News Agency.
Speaking in the Third Euro-Arab Summit, Saudi State Secretary for Foreign Trade and Investment reported on the growing investment prospects offered by his country and noted that there are many opportunities for cooperation.
"Greece has a great added value in tourism, innovation and small and medium-sized businesses and such investments Saudi Arabia is seeking," he said, surveying the investment fields that his country focuses.
Earlier, at the meeting, AA. bin Ahmad underlined that, given the Saudi Arabian targets for 2030, the contribution of the private sector is important for their achievement and pointed out that the Kingdom has set the framework for securing investment in a number of sectors while continuing to improve competitiveness.
On the basis of the above statements and recognizing the role of trade in the relations of the two countries, Stonenews.eu presents exports of raw marble blocks and slabs as well as finished marble products of Greece to Saudi Arabia in 2017, according to the relevant HS Codes, following a survey on the statistical data of the International Trade Center and the National Statistical Institutes.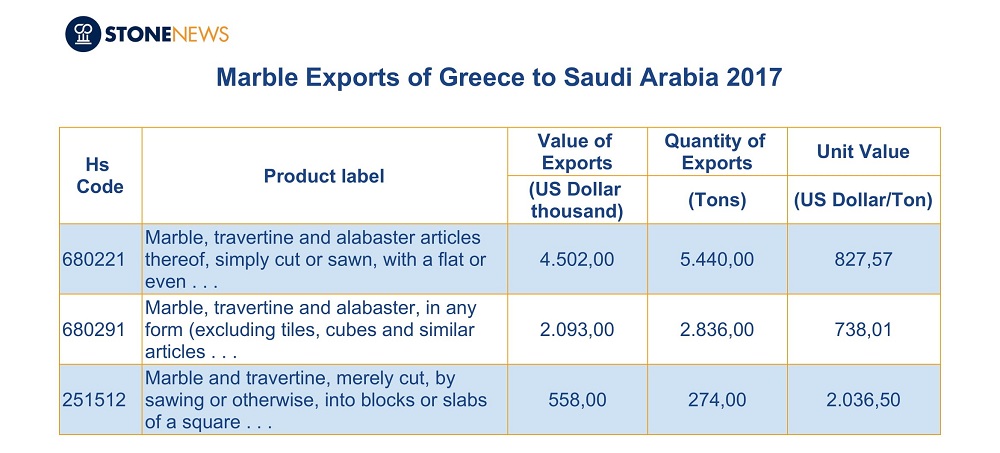 As shown at the table above, Greece exported mostly finished marble products to Saudi Arabia in 2017. More specifically, HS Code 680221 achieved $ 4.5 million value of exports while HS Code 680291 reached $ 2.09 million. In raw marble blocks and slabs the export value is small, numbering $ 558,000.
*Statistic reports result from the HS Codes below (Harmonized System Codes):
680221: Marble, travertine and alabaster articles thereof, simply cut or sawn, with a flat or even surface (excluding with a completely or partly planed, sand-dressed, coarsely or finely ground or polished surface, tiles, cubes and similar articles of subheading 6802,10, setts, curbstones and flagstones).
680291: Marble, travertine and alabaster, in any form (excluding tiles, cubes and similar articles of subheading 6802.10, imitation jewellery, clocks, lamps and lighting fittings and parts thereof, buttons, original sculptures and statuary, setts, curbstones and flagstones).
251512: Marble and travertine, merely cut, by sawing or otherwise, into blocks or slabs of a square or rectangular shape.
Source: bankingnews.gr, Stonenews.eu, ITC