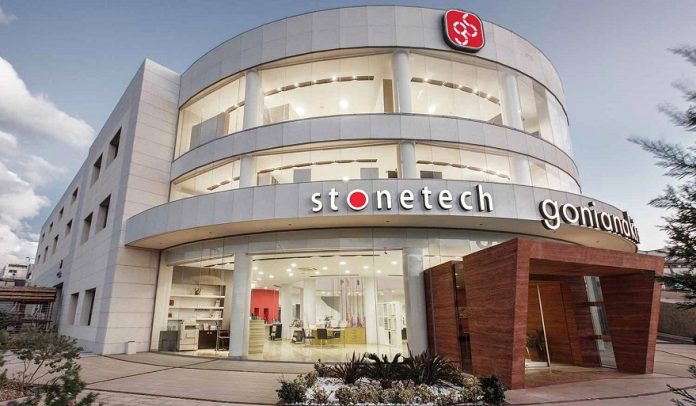 Stonetech has the exclusive distribution of Neolith® products in Greece, through its network of partners and also directly through its local stores.
Neolith® sintered surfaces consist of 100% natural materials:
Granite materials that provide surface hardness and strength
Glass minerals that guarantee chemical stability
Natural oxides that provide color properties
These materials are then subjected to very high pressures and temperatures. The combination of raw materials goes through pressure up to 400 bar. In the next phase, the slabs are baked in an oven at a temperature greater than 1.200ºC.
In this way, the sintering technology used to manufacture the surfaces gives Neolith® surfaces physical and mechanical characteristics unprecedented in the construction industry.
Combining high-definition decoration with high-performance properties, Neolith® offers a triple guarantee
Neolith® surfaces are tested and verified to meet strict carbon emission levels and have received the "Greenguard Gold" certificate, which guarantees maximum safety for use even in schools and nurseries. The surfaces are also certified and have been tested on its high content of recycled materials (23-52%).
The Green Guard certificate and the high percentage of recycled material help in the pursuit of LEED Green Building Rating points for LEED credits in the projects.
Neolith® surfaces have received the EcoVadis Gold Medal rating for sustainability, placing the company in the category of excellence in the industry. With this certification, the Neolith® Group is now officially recognized for its outstanding sustainability performance, ranking it as one of the highest valued companies in the industry.
Characteristic Properties
Lightweight: Weighs only 7kgr/m2 at 3mm, and 30kgr/m2 at 12mm.
Bending strength: High strength index under heavy weight & pressure
Recyclable: Up to 52% recycled material, 100% recyclable.
Compact: – non-porous Impermeable to liquids, with an almost zero absorption coefficient.
Suitable for floors: Thanks to the hard surface it is resistant to heavy traffic.
Multiple applications: Floors, Facades, Investments in kitchen & bathroom counters, furniture, accessories.
Dimensions: Large slab dimensions up to 320x160cm in 3/6/12mm thickness
Treatments: SATIN, SILK, RIVERWASHED, DÉCOR POLISHED NANOTECH POLISHED, SLATE FINISH, NATURAL HONED, ULTRASOFT
Colors: Wide variety with 50+ options.
Hygienic: Does not emit any kind of harmful substance, suitable for food contact, NSF certified.
Scratch resistant: Its hard surface has excellent scratch and abrasion
Resistance to UV radiation.
Made of 100% natural materials: its colors are not altered by solar radiation.
The surfaces are not damaged by low or high temperatures. It does not burn when in contact with fire and does not emit smoke or toxic substances.
Certifications
ECOVADIS GOLD                Company evaluation system for green growth
Discover the entire color palette of Neolith colors here.
For more information:
Projects EMEA +30 210 9945011
Projects USA: +1 7049757424
[email protected]