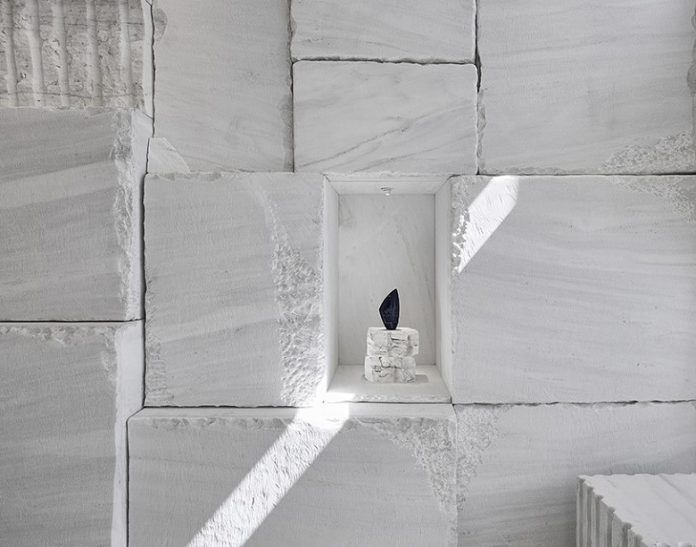 Fusing timeless Greek aesthetics and Mediterranean culture, heritage brand Nikos Athina has unveiled its new flagship store for the House of Sculpture on the island of Mykonos.
The space is realized by Saint of Athens who driven by the aesthetics of classical art, have crafted a quarry-like boutique made of sculpted blocks of Dionysus marble — the same kind used to build the Parthenon. The spatial concept derives as an analogy to the form of the brand's iconic perfume bottle, reminiscent of a boat's sail or a sculpted piece of marble.
At its core, Nikos Athina embodies Greek soul and heritage with a design philosophy that encapsulates Mediterranean culture. The brand's collections, spanning swimwear, underwear, and perfume, exude an elegant and timeless allure, transcending fleeting fashion trends, and preserving classical artistry. The flagship store's design concept likewise seeks to generate a natural and artistic ambiance. Saint of Athens devised the space to not merely showcase Nikos Athina's creations, but to embody the brand's essence, akin to a thematic art gallery offering a singular experience to its visitors.
Striving to blend timeless artistic spirit, refined simplicity, upscale fashion, and Greek heritage, the design team sited the flagship store on the island of Mykonos — a cosmopolitan space amidst the whitewashed Cycladic landscape. The design concept revolves around the brand's trademark griffin, symbolizing a primitive-like creative force that transforms objects into artworks.
This essence was captured in the design by taking inspiration from the natural transformation or raw nature into art — the marble quarry. The designers, in collaboration with marble experts from Form To Matter, selected Dionysos marble from Penteli, the very material used in constructing masterpieces like the Parthenon.
The selected blocks were cut to the desired size and then sculpted to create a full-scale mock-up of the store to ensure an impeccable final result. This was then dismantled and the marble pieces shipped to Mykonos and reassembled at the store's site.
Source: www.designboom.com