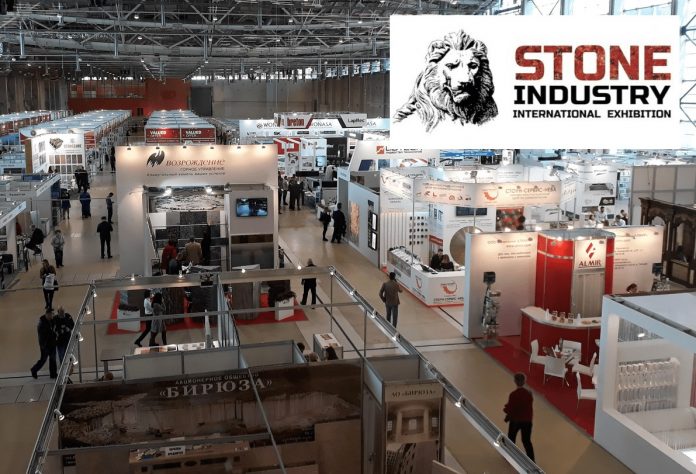 STONE INDUSTRY, the international exhibition for stone quarrying, processing and application,  the biggest international event for the natural stone industry in Russia and Eastern Europe,  will take place again in Moscow, Russia, VDNKH fairgrounds (Hall 57) on June 29 – July 2, 2021.
The critical spreading of corona virus all over the world and the consequent domestic and international lockdown made not possible to hold the Exhibition in June 2020 as it was scheduled. The global success in the fight against the pandemic and the recent registration of the first vaccine against corona virus in Russia allowed the organizers to relaunch the Exhibition. Needless to say that all measures to ensure the complete safety of all exhibitors and visitors will be taken by both the organizers and the fairgrounds. 
Reasons why it is save and easy to come to STONE INDUSTRY-2021: 
Due to massive vaccination of people the spreading of COVID-19 in Russia goes down by accelerated rates

No lockdown for foreigners coming to Russia, only COVID-19 test is required 

there are flights to Russia from many countries
As every year since 1999, STONE INDUSTRY will showcase various kinds of marble, granite, travertine, onyx and other unworked stone, stone products, as well as machinery, equipment and tools for stone quarrying and processing. 
STONE INDUSTRY-2021 will undoubtedly provide the best offline meeting place for companies from Russia and abroad that operate in the field of natural stone and their clients – professionals in stone, tools, accessories, chemical products, machinery and services for the stone industry, decision makers in construction companies, architects, designers, restorers, etc. 
The Exhibition will be followed by a comprehensive program of events targeted on stone industry professionals, architects, designers and construction companies that apply natural stone in their projects.
Reasons why taking part in STONE INDUSTRY-2021 can be beneficial to you:
After the recession occurred in 2014, since 2018 the construction market in Russia has been steadily increasing, in 2021 the overall amount of the construction works in the country is going to reach 90 milliard dollar

Сonsumption of natural stone in Russia is over 4 million tons per year

According to specialists' assessment, the annual value of the Russian market of natural stone is 400-500 million dollar

There are over 300 quarries and stone processing factories, almost all use imported machinery and equipment

STONE INDUSTRY: 7,000+ key decision makers over 4 days
The main stone market players from Russia as well as companies from Ukraine, Belarus, Germany, Kazakhstan, Kyrgyzstan, Italy, India, Iran, Oman, Palestina, Turkey, Uzbekistan already signed contracts for participation. 
STONE INDUSTRY-2021 will help its participants and visitors to find new clients and suppliers and to establish profitable partner relations.