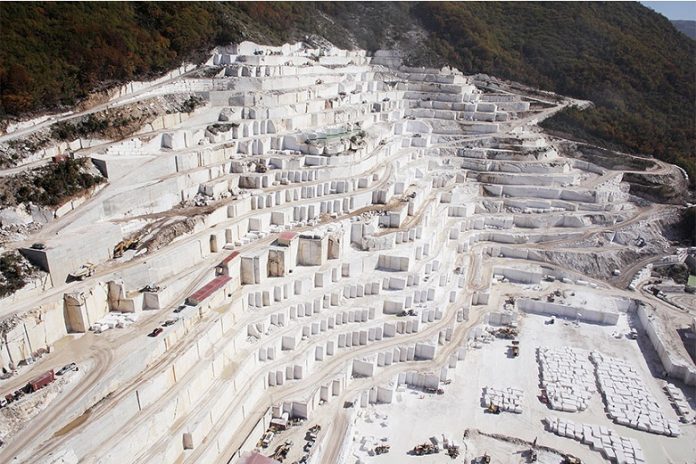 Explosive growth of sales and profit in 2017 for Birros Hellenic Marble Quarries, a mainly marble exporting, quarrying and elaborating industry.
According to the annual economic report, in 2017, second year under the new corporate structure after absorbing all associate companies, the total income of Birros Hellenic Marble Quarries was 27,34 million euros, compared to 17,41 million euros income in 2016, increased by 57%, meaning 9,93 million euros in value. 85,1% of their revenues (23,28 million euros) came from marble blocks, 14,5% (3,96 million euros) from marble slabs and tiles and the rest 0,4% (0,10 million euros) from services. Moreover, 21,8% of the total income (5,97 million euros) came from domestic sales while the rest 78,2% (21,37 million euros) from exports (3,53 million euros from exports to other European countries, 0,53 million euros from exports to America and 17,32 million euros from exports to Asia). Domestic sales rose by 11,4%, while the international ones increased by 77,3%. Also, 9,8% of the revenues (2,68 million euros) came from sales to affiliate companies.
The industry's gross profit margins for 2017 climbed up to 15,41 million euros from 7,95 million euros a year before (+93,7% or +7,45 million euros), with the rate raised from 45,7% in 2016 to 56,4% in 2017.
Earnings before interest, taxes, depreciation and amortisation (EBITDA) were 10,475 million euros in 2017, referring to 38,3% of the total income, while in 2016 they were 6,25 million euros (35,9% of the income), ramped-up by 67,6% (+4,225 million euros).
Pre-tax profits, after depreciation and amortisation of 1,38 million euros as well as interest charges and other related expenses of 0,43 million euros, reached 8,66 million euros in 2017 (over 4,44 million euros a year before), while, after taxes, net profits were 6,16 εκατ. ευρώ (over 3,19 million euros during the previous year), increased respectively by 95,2% and 93%. The company's pre-tax profits represent 31,7% of 2017 sales, while net profits 22,5%.
In December 31, 2017, the industry had 3,85 million euros cash and cash equivalents (1,96 million euros in December 31, 2016).
In August 2016, "Dorika Marbles S.A." was renamed to "Birros Hellenic Marble Quarries", after merging all its three affiliated companies and transferring 50% of its shares to equivalent industry Marmor SG, for 4,5 million euros. "Dorika Marbles S.A." was founded in 1987 at Nafpaktos and in 1997 a second industrial unit as created in the area of Drama in Northern Greece in order to elaborate marble blocks and offcuts, acquiring at the same time white and semi-white marble quarries. Moreover, the company has, among others, a white dolomite marble quarry in Pyrgoi, Drama.
President and CEO of the group is Mr. Ioannis M. Birros representing the founders, while Vice-president and Co-chief executive officer is Mr. Ioannis A. Antoniadis representing  Marmor SG. By the end of 2017 the group had 218 employees, over 188 by the end of 2016. The company exports marble blocks as well as finished marbles to more than 25 countries in total, such as China, Singapore, Brazil, Cyprus, Italy, Spain, Portugal and South Korea. Most of the revenues come from its exporting activity.
Source: www.inr.gr