A US artist has breathed new life into disused quarries through her exhibition of collages, sketches and watercolours.
Kate Katomski has put her interest in the natural environment to good use, livening up through her work the portrayal of numerous abandoned quarries in the USA.
As nature reclaims what man once created, these ruins retain a sublime beauty all their own," Katomski says on her homepage.
Katomski's body of work focuses on the post-industrial landscapes of abandoned marble quarries in Vermont and most recently Tennessee (TN).
"I have documented and researched these sites for over a decade, collecting video, archival images, photos, and oral histories about the quarries," she says.
The Tennessee quarry project in 2016 comprises historic and artistic imagery set to a soundtrack of live interviews and original music directed, filmed and produced by Katomski and Judd Mulkerin. Master printer Beauvais Lyons collaborated to create the prints using a lithographic run from pink Tennessee marble, positive photolithography and monoprint.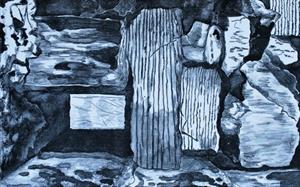 This project was exhibited as "Rock of Ages: East Tennessee's marble industry" at the Museum of East Tennessee History from the North American autumn of 2016 to spring 2017 in Knoxville, TN.
Mixed media prints and carved marble sculptures are included in the Vermont Project with Judd Mulkerin creating immersive installations of sound, image and light in the quarries.
"Our focus is on the quarry workers and their families which consisted of European immigrants and African-Americans – whose humble roots gave rise to a booming industry that built the grandeur of our country's architectural legacy. It's a testament of human ingenuity, human power and sacrifice," she says, adding that the Tennessee and Vermont quarries have been historically linked since the 1890s.
Katomski's quest to instill new life in abandoned quarries has been extended to Maine since summer 2017.
"I've explored, photographed and sketched Crotch Island Quarry, Green Island Quarry and Settlement Quarry. During the winter and spring of 2018, I visited the Vinalhaven quarries. I am interested in what architecture masterworks were built from Maine granite and the local and immigrant history that worked in and managed the quarries," Katomski was quoted as saying in the Lewiston Sun Journal.
Katomski is going places, breathing new life into bygone disused quarries.
By Keith Noyahr
Source: www.quarrymagazine.com