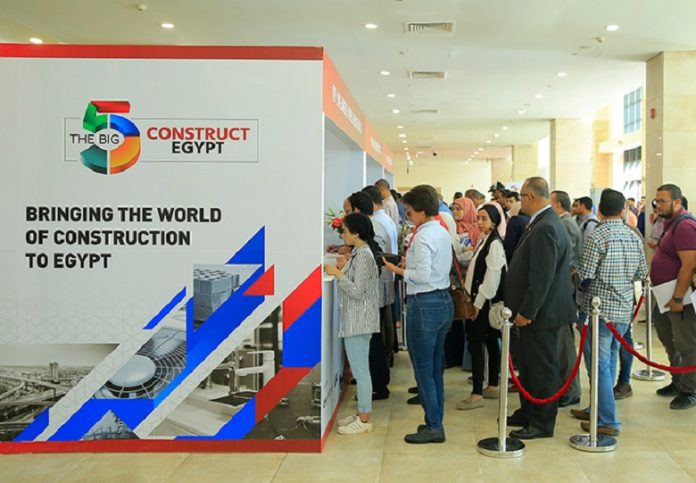 Set to take place on 19-21 June, the event will focus on several product sectors needed to deliver Egypt's ambitious development plan
Thanks to the patronage of Egypt's Prime Minister, HE Dr. Moustafa Madbouly, the fifth edition of Egypt's largest and most influential construction industry event, the Big 5 Construct Egypt, will take place 19 – 21 June.
The event will be held at the Egypt International Exhibition Centre (EIEC), and it will be hosted alongside Egypt Infrastructure & Water Expo, Big 5 Egypt Security, Fire & Smart Buildings Summit and Middle East Coatings Show Egypt.
Endorsed by the Ministry of Housing, Utilities, and Urban Communities, the three-day event will focus on several product sectors needed to deliver Egypt's ambitious development plan: plant, machinery & vehicles, building materials & tools, building envelope & special construction, MEP services, urban connectivity, water & waste, utilities, smart technologies, security, safety, fire protection, and intelligent buildings.
Given Egypt's high population ratio and growing construction market, Big 5 Construct Egypt brings together key market players to seize unparalleled opportunities and explore cutting-edge technologies and solutions to achieve high growth ratios while carrying out long-term projects in the country. The 2023 edition will host insightful discussions shaping the construction sector and unleashing new potential.
Ben Greenish, Senior Vice President, Construction at dmg events, said: "The 5th edition of Big 5 Construct Egypt is particularly exciting as we launch Egypt Infrastructure & Water Expo this year. The new launch will serve as a crucial platform for international and local industry players to come together and drive innovation, collaboration and growth in infrastructure industry. The event builds on the success of dmg events' expanding portfolio of events in one of the fastest-growing construction markets. We're also introducing a summit for Security, Fire & Smart Buildings industry, further enhancing our offering to the construction community in Egypt."
Moreover, Hassan Allam Holding has joined as the Diamond Sponsor of the inaugural Egypt Infrastructure & Water Expo. The company's CEO, Eng. Hassan Allam, said: "As a leading player in the infrastructure space from investment and development to engineering and construction, we are always eager to connect with fellow professionals, share our expertise, and explore new opportunities. Egypt Infrastructure & Water Expo will provide an excellent platform for us to showcase our innovative solutions and technologies, engage with key stakeholders, and contribute to the growth and development of the industry as a whole."
And for its 3rd time, the Big 5 Egypt Impact Awards will celebrate the success and achievements of organizations, projects and individuals in 20 categories, three of which are new, including Carbon Net-Zero Initiative of the Year, Director of the Year and Facility Management Firm of the Year. The shortlisted finalists at the awards include Al Futtaim Group Real Estate, Hill International, Engineering Consulting Bureau, TAQA ARABIA, Magnom Properties, SIAC Construction, Schneider Electric, Eden Facilities Management, The Arab Contractors for Facility Management, Edara Property Management, and Eltizam Asset Management Group, among others. The awards ceremony will take place on 20 June at the Royal Maxim Palace Kempinski Cairo during the Big 5 Construct Egypt.
Big 5 Construct Egypt will also feature the third edition of Big 5 Egypt Construction Leaders' Summit, which will host expert speakers and open new horizons for sustainable design and green building, the untapped potential of green hydrogen in Egypt, facilities management and supply chain localization. Some of the speakers include Atter Hannoura, Director, PPP Central Unity, Arab Republic of Egypt, Sarah El Battouty, Global Ambassador UNFCCC High-Level Climate Champions & Founder, Econsult; Mohamed El-Taher, CEO, Saudi Egyptian Developers; Waleed Abdel Fattah, President Middle East & North Africa Operations, Hill International.
Over 30 CPD-certified talks will also bring industry experts and practitioners together to discuss the creation of robust compliance pathways for innovative building materials, systems and methods, the future of sustainable design and green building, blockchain in water infrastructure, revitalizing urban spaces in Egypt and the future of urban design.
Source: www.constructionweekonline.com