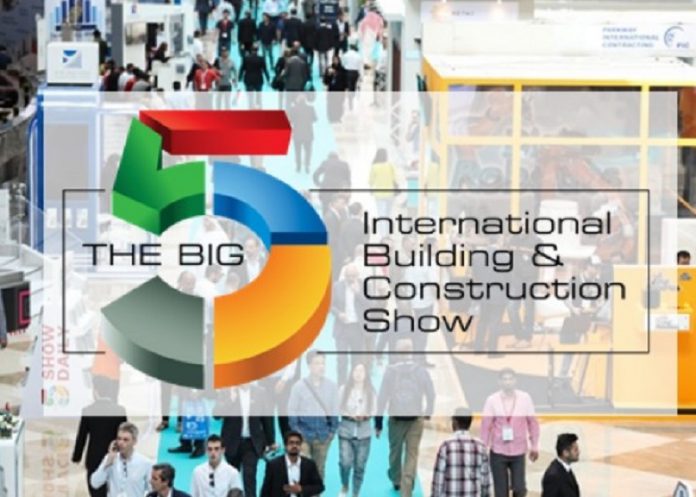 The Big 5 is the largest and most influential building and construction show in the Middle East. Since 1979, the event has launched hundreds of thousands of products, it has facilitated partnerships, advanced knowledge and industry best practices, while serving as the gateway for international companies to access the Middle East market.
This year, celebrating its 40th anniversary, The Big 5 turns into a global hub for the construction industry, catering to the needs of all construction projects from inception to completion, as it brings the entire portfolio of building materials, construction products, and solutions together under one roof. From November 25 to November 28, 2019, at Dubai World Trade Center, manufacturers, suppliers, traders and service providers from Middle East Asia, Europe and the Americas will be showcasing thousand of advanced technologies and solutions. 
The Big 5 is co-located with 6 specialised events: The Big 5 Heavy, Middle East Concrete, HVAC R Expo Dubai, The Big 5 Solar, Middle East Stone, and Urban Design & Landscape Expo, giving all related businesses the opportunity to build their professional circle, explore innovative products and solutions, and stay up-to-date with the industry latest developments. 2,307 exhibitors will cover a total area of 100,000 sqm waiting for about 68,750 participants across all co-located events.
Middle East Stone is the premier dedicated trade show for the Middle East and North Africa region's natural stone, marble and ceramics industry. Year after year, thousands of regional decision-makers meet with local and international suppliers to explore business opportunities together and source flooring, facade, landscaping and fit-out solutions involving the finest natural stone, marble, tiles and ceramic products as well as installation and maintenance solutions from around the world. The 16,000 sqm of the display space will host more than 400 exhibitors this year from 70 countries.