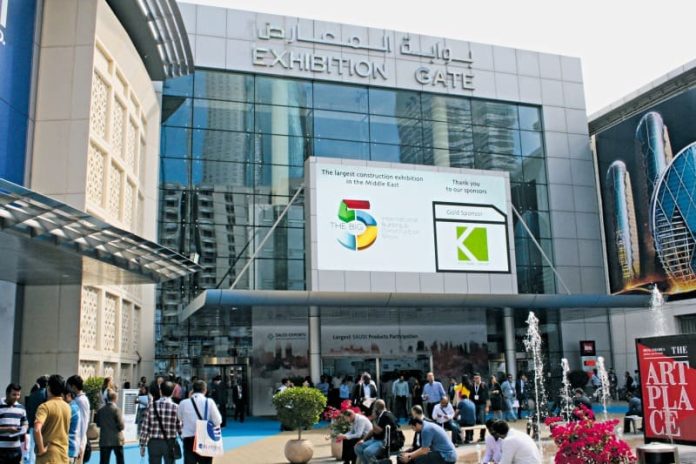 The 44th edition of Big 5 Global returns with an even stronger international presence, as the event features 2,200 exhibitors from 60+ countries including China, Cyprus, France, Germany, Greece, Italy, Saudi Arabia, Singapore, Spain, Türkiye, the UK and many more
Specialized focus can be found at Big 5 Heavy, Middle East Concrete, Middle East Stone, HVAC R Expo, Urban Design & Landscape Expo, FM Expo and biennial Window, Door & Facades and Gulf Glass all co-located with Big 5 Global
2023 edition of Big 5 Heavy boasts the largest outdoor exhibition area ever showcasing cutting-edge PMV solutions
Big 5 Global, the largest and most-influential construction industry event in the Middle East, Africa and South Asia (MEASA), taking place at Dubai World Trade Centre from 4 – 7 December 2023 and supported by the UAE Ministry of Energy and Infrastructure, unites the whole industry under one roof to do business, network and exchange knowledge.
"Over the years, Big 5 Global has become a dynamic catalyst for the full construction value-chain, from inception to commissioning and management. The event is a pivotal bridge connecting global businesses with the right buyers, making it an essential place for professionals in the construction sector," said Josine Heijmans, Vice President – Construction, dmg events, the organizers of Big 5 Global.
At this year's Big 5 Global eight product sectors take the center stage including building envelope and special construction, building interiors and finishes, construction tools and personal protective equipment, intelligent buildings, MEP services, off-site and modular construction, digital construction products and services and solar solutions. The focus on these sectors makes the event a melting pot of cutting-edge innovations and modern construction technologies on a global scale. With a stronger international presence featuring 2,200 exhibitors from 60+ countries including China, Cyprus, France, Germany, Greece, Italy, Saudi Arabia, Singapore, Spain, Türkiye, the UK and more, Big 5 Global presents a comprehensive showcase of the entire construction sector.
In addition to the focus on eight product sectors, the event is co-located with eight specialized events, namely, Big 5 Heavy, Middle East Concrete, HVAC R Expo, Middle East Stone, Urban Design & Landscape Expo, and FM Expo as well as the biennial Windows, Doors & Facades Event and Gulf Glass.
Big 5 Heavy
As a dedicated event catering to the plant, machinery and vehicles industry, Big 5 Heavy focuses on various product sectors including earthmoving machines & equipment – crushers, quarries & screening, access platforms, cranes & lifting equipment and forklifts among others. The event equips visitors with the skills necessary to make the right buying decisions by demonstrating state-of-the-art equipment and solutions that boost construction efficiency and production.
Renowned companies exhibiting at Big 5 Heavy include Bauer, Terex, MAN Trucks, Isuzu, Husqvarna, Avant, Gorica, and others. This year's Big 5 Heavy will have the largest outdoor exhibition area ever showcasing cutting-edge construction equipment while also featuring returning exhibitor and German construction heavyweight Bauer.
"It's a tremendous opportunity for us to be a part of Big 5 Heavy to not only showcase our cutting-edge construction equipment but also to engage with industry leaders, experts and construction professionals," said Shahram Houshmandfard, Managing Director at BAUER Equipment Gulf.
Another exhibitor, Milwaukee Tools will present battery-operated power tools with the company's stand at Big 5 Heavy set to be fully operated on solar power.
Middle East Concrete
Middle East Concrete showcases products including concrete reinforcements, formwork & scaffolding, pre-cast production & equipment, cement & cementitious products, batching equipment and readymix concrete among others.
The event features some of the world's biggest names in the concrete industry. These include Elematic, Condor, Masa, Lafarge, Putzmeister, Quadra, TOPWERK, Hitech, Kryton and Gulf Precast Concrete to name a few. At the event one of the exhibitors, Sigma Enterprises, is set to launch Trelawny, a concrete surface preparation technology as part of its expanding portfolio.
American Concrete Institute (ACI) is the Supporting Association of Middle East Concrete. Ahmad Mhanna, Middle East Regional Director at ACI said: "Through our partnership with Middle East Concrete, we strive to empower professionals and engineers by providing them with access to cutting-edge knowledge, innovative solutions and a global network of peers."
Middle East Stone
The robust urban construction activities in the region are fueling a significant surge in the need for natural stone, marble and granite products. To cater to this escalating demand, Middle East Stone provides access to premium products for a wide range of applications, including flooring, facades, landscaping, and interior fit-outs, as well as comprehensive installation and maintenance solutions on a global scale.
Companies such as Breton, Waterjet, BRACHOT, Julipedra, Iktinos, Naturelmar, and Granimarmo, among others will be exhibiting at this year's Middle East Stone.
Windows Doors & Facades Event & Gulf Glass
The windows, doors & facades and glass industry is playing a major role in reducing energy costs and improving sustainability of buildings. Advances in technology, improved weather resistance and energy-efficiency are driving the demand for these products.
Product sectors under focus at the event include curtain wall systems, insulation materials, aluminium doors & windows, wooden doors & windows and operational software among others.  Some of the renowned names exhibiting at the event are Schüco Middle East, Alumil Middle East, Gutmann, Sykon, Hegla, Orgadata, Landglass, Filtraglass, Pertici and SEFPRO (Saint Gobain).
HVAC R Expo
The HVAC R sector plays a pivotal role in building projects. At HVAC R Expo, visitors will explore sustainable heating, ventilation, air-conditioning and refrigeration products and services. Well-known names such as Honeywell, Rime Group, Resideo, Siemens, Gulf-O-Flex, Danfoss, Fawaz Group and Coolex are part of the exhibitors' line up this year.
Urban Design & Landscape Expo
As the premier event for urban green spaces visitors will discover a wide range of product sectors including benches & seating barriers, composite wood & decking, furniture plant containers, garden & street furniture, paths & squares and pavers among others.
Companies including Bluestream, RAKNOR, Orient Irrigation, Fujairah Concrete products, Serge Ferrari, Bagatinni and Eurotech are some of the exhibitors at the event.
FM Expo
Facilities management ensures the seamless operation of buildings throughout their entire lifecycle. At FM Expo attendees can discover various product sectors including commercial cleaning & hygiene services, waste & recycling and other FM products & services. Companies such as Elid Technology International, Taqt, Vance Chemicals and Xporience will exhibit at the event.
Heijmans added: "With the co-location of eight specialized events, Big 5 Global provides the opportunity to meet over 2,200 exhibitors from 60+ exhibiting countries to explore the very best the industry has to offer, including groundbreaking technologies, sustainable building practices, cutting-edge materials and innovative project management solutions. All of which collectively support efficient development and delivery during the project lifecycle."
Promoting global thought leadership in the industry, this year Big 5 Global brings an extensive content programme including Big 5 Global Leaders' Summit, Big 5 FutureTech Summit, Everything Architecture as well as Big 5 Talks held under 10 different streams including Project Management, Concrete, Geotechnical, Architecture, Solar, Facilities Management, Facades, HVAC R & MEP, Offsite & Modular, Technology and Urban Design & Landscape. The event also celebrates the 3rd edition of Big 5 Global Impact Awards recognizing innovation, sustainable development, technology and digital achievements in the construction industry in 19 categories.
The event is supported by:
Main Supporting partner the Ministry of Energy & Infrastructure
Supporting Partners Dubai Municipality and Dubai Civil Defense,
Platinum Sponsor, Saudi Export Development Authority (SEDA)
Gold Sponsor, NG Khutaya
Windows Doors & Facades Event Diamond Sponsor, Schüco Middle East
Windows Doors & Facades Event Platinum Sponsor, Alumil Middle East
Windows Doors & Facades Event Gold Sponsor, Sykon
Silver Sponsors, ECE Marble, Italian Trade Agency and Fresh
Sustainable Development Sponsor, Dubai Investment Park
Bronze Sponsors, Al Waseef, Rubber World and RAK Bank
Taking place from 4 – 7 December 2023, at the Dubai World Trade Centre, Big 5 Global attracts 68,000+ attendees from over 150 countries and 2,200+ exhibitors showcasing 50,000+ products.
Big 5 Global is free to attend for industry professionals. Visitor registrations are open at www.big5global.com