Bulgari's first Octo Finissimo Tourbillon timepiece carved in green marble springs to life, plated with rose gold watch hands and encased in 110 facets of thin marble layers. This is the first time that Bulgari has produced a watch almost entirely made of marble. The Octo Finissimo Tourbillon timepiece has a case with 110 facets, covered in a thin layer of marble. The marble had to be carefully machined, smoothed, and polished by hand before being applied.
The bracelet of the Bulgari Octo Finissimo Tourbillon watch was the most delicate part. It took the artisans about 190 hours to complete it since each slice of bracelet link is made of marble. The dial is created with a thin marble wafer and indices, and it features an exposed tourbillon at 6 o'clock. The back of the timepiece's case has a sapphire crystal and reveals the slim BVL 268 caliber movement. To finish off the presentation, Bulgari has also created a custom box with a marble finish dedicated to the watch.
The Bulgari Octo Finissimo Tourbillon watch makes its entrance to the 2023 edition of Only Watch as a one-off, limited edition piece. Only Watch is a community project and a charity auction that intends to raise funds for research on Duchenne Muscular Dystrophy, a genetic disease that concerns 1 in 3,500 boys and weakens progressively all their muscles.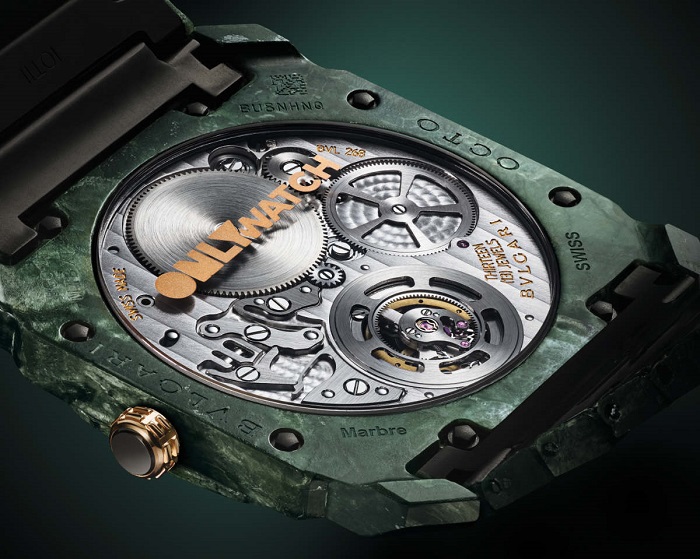 The carved green marble of the Bulgari Octo Finissimo Tourbillon timepiece, named Verde Alpi, comes from the Aosta Valley, the natural passage between the Alps of Switzerland and Italy. Its deep shade recalls the dominant color in nature, exuding a sense of abundance, growth, and energy. The veins of the green marble, embodying white lines, tap into the snow-capped Alpine forests on the flanks of the Valle d'Aosta. The irregular patterns surrounding the marble watch only reinstate the way Bulgari has maintained the natural properties of the raw material.
Bulgari, deeply rooted in the Roman tradition, embraces the use of marble as a reflection of its heritage. This affinity dates back almost a century when in 1934, renowned architect Florestano Di Fausto incorporated marble into the renovation of Bulgari's flagship boutique in Rome's Via dei Condotti.
Marble once again took center stage in 2014 when celebrated architect Peter Marino employed the material during the boutique's refurbishment for Bulgari's 130th Anniversary. In a bold move, Bulgari ventured into jewelry design in 2012, and here, it incorporated marble into the B.zero1 collection, bridging the gap between ancient stone, timeless luxury, and contemporary industrial aesthetics.
Source: www.designboom.com