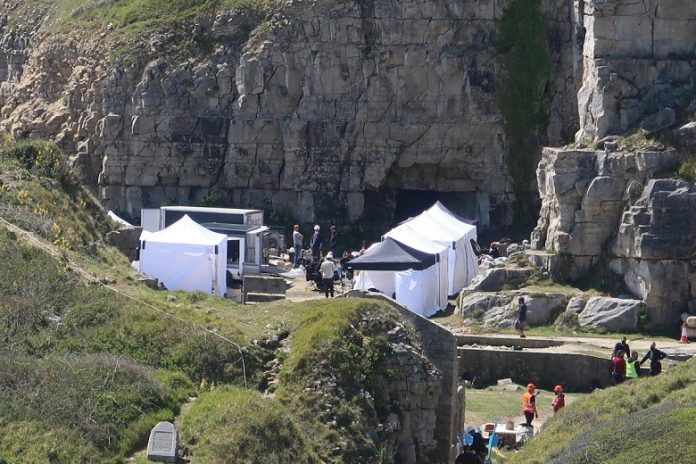 FILMING for a new Star Wars TV series at a Dorset quarry has been completed, as production crews pack away the set.
The 12-episode Star Wars series takes place before the events of Rogue One and focuses on the early formation of the Rebellion. It is likely to be released during 2022.
Diego Luna will reprise his role as Cassian Andor, with Stellan Skarsgård, Adria Arjona, Fiona Shaw, Denise Gough and Kyle Soller also to appear in unconfirmed roles.
The quarry has been closed since Monday, April 26 to allow production crews to build the set, as well as transport props, technical equipment and for actors to arrive.
Spectators can only see above the quarry and a rock wall blocks the entry of the cave so had difficulty seeing what was being filmed. Security guards also lined the public footpaths to prevent any photographs or video being taken.
Looking at the set, a number of male and female actors wore black cloaks which presumably covered their costumes to prevent any speculation or spoilers.
The filming ended on Thursday, May 13, according to a source close to the set.
The derelict Winspit Quarry has been used as a filming location over the years, including for classic Doctor Who and Blake 7 TV series. It was also featured as a scene location for the 'Orkney Dig' in the 2012 Disney film John Carter.
Source: www.bournemouthecho.co.uk