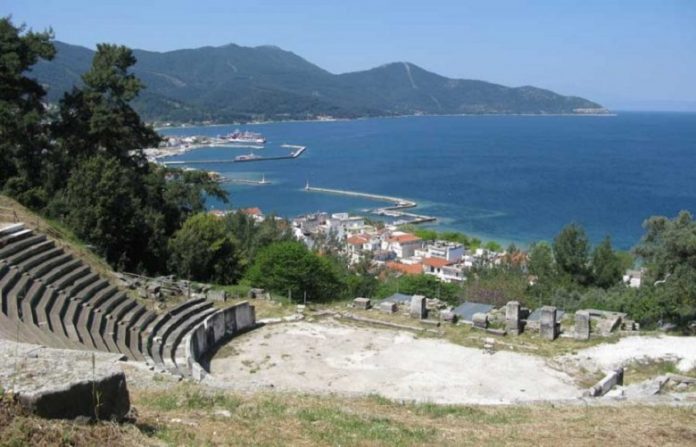 The ancient theatre of Thassos island in Greece enters a new era of restoration and preservation, almost a century after the first excavation carried out in 1921 by the French Archaeological School, revealing the concave of the impressive theatre, the orchestra, the lanes and a part of the scene.
The theatre is built in a natural cavity on the hill of the current capital of the island, Limenas, offering unparalleled views of the harbor. It was built in the beginning of the 3rd century BC with a marble facade, while the spotlight was dedicated to the god Dionysus.
This is the second phase of restoration of this important archaeological monument, as the first phase began and was completed some years ago with the main work of replacing old infrastructure with the famous white marble of Thassos, according to its original construction in the ancient times. The marble that was used came from sponsorships of private marble companies of the island.
This second phase includes, among other things, the restoration of the theatre's concave (spectators tribune),a large part of the marble seats, the reinforcement of the eastern bridge, the restoration of part of the foreground, the improvement of accessibility to the theatre and the creation of a virtual tour for disabled. The project is funded by the NSRF and implemented by the Ephorate of Antiquities of Kavala – Thassos.
The ancient theater of Thassos in a few years will be ready to "talk" to the thousands of viewers, transferring its history, the adventures and the course it has made in time. It is this story that carries to the younger people the names of the people engraved on the marble hollows of the seats when the 1st century AD the theater was used for dueling, the orchestra turned into a arena and the doors closed the lanes.
Sources: ert.gr, in.gr, Kavala newspaper, Proini of Kavala newspaper