Italy is the second largest marble blocks and slabs exporter in the world after Turkey, but still the number one in Europe. Greece comes second among European countries in marble blocks and slabs exports, followed by Spain and Portugal. These countries are the main marble producers in Europe as well and some of the greatest marble producers globally.
2019 started with several difficulties and a general downward trend in marble blocks and slabs exports for most of the countries. But what was the export growth of the major four exporting countries during the first six months of 2019 compared to the same period of 2018?
At the table below, Stonenews.eu is presenting the growth rate of marble blocks and slabs exports both in value and quantity of exports for Italy, Greece, Spain and Portugal in the first half of 2019 compared to 2018's. Portugal was the only country that didn't experience any loss either in export value or quantity of exports.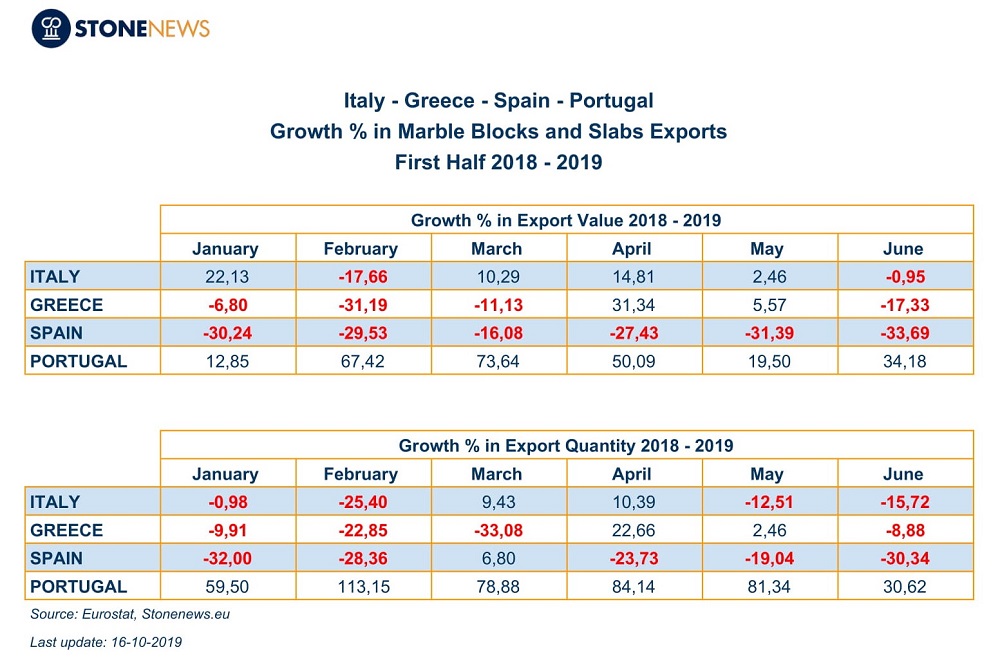 As seen at the table, Spain was the one that lost out mainly in export value, as there was negative growth in all six months when compared to the previous year's. Italy and Greece had several fluctuations, with the most significant losses in export value to be observed in February for both of the countries. As for quantity of marble blocks and slabs exports, February was also the month with large decrease for all countries, except Portugal. However, Greece's worst month in quantity of exports was March and Spain's was January 2019 in comparison to the same months of 2018.
It is worth mentioning that during the first six months of 2019, Italy exported marble blocks and slabs worth €193.61 million, Greece €122.84 million, Spain fell back to €33.49 million while Portugal rose up to €21.19 million.
*Due to consistent data flow, statistics may alter during the year