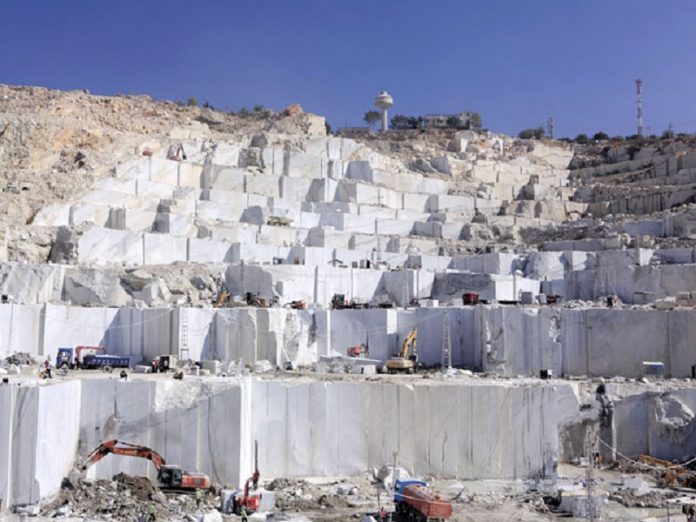 Once known as the largest marble market in Asia, Kishangarh in Rajasthan now appears like a ghost town. Not a single person can be seen on the roads lined with marble processing units and closed factory shutters.
Kishangarh is part of Ajmer district, a Covid-19 red zone, but there is only one case in the rural part of the town. The novel coronavirus lockdown has, however, severely impacted the marble industry, halting all operations due to the restrictions imposed.
"The whole industry has come to a standstill. Factories are closed, godowns are full and owners are sitting at home," said Subhash Agarwal, director, finance, at R.K. Marble, one of the largest marble factories in the area.
"More than 300 truckloads of marble and granite used to be transported out of the market, (but) no truck has left since the last week of March," he added.
Kishangarh's marble and granite industry is spread across 40 kilometres, with 1,100 units and 25,000 workers, said a member of the Kishangarh Marble Association.
In the past few years, the marble industry has faced several setbacks — demonetisation in 2015 and the implementation of the open general licence in 2016 that allowed import of marbles, impacting the processing of local marble, said an industry insider. The coronavirus lockdown is like another nail in the coffin.
Kumar said the administration had allowed industries in the Rajasthan State Industrial Development and Investment Corporation (RIICO) area to gradually begin production, provided safety guidelines like masks and sanitisers are followed.
"Some big industries, including marble units, will start functioning when they get their labour and their demand in place," he said.
The marble industry, however, will take some time to get back on its feet, according to industry insiders.
R.K. Marble's Agarwal believed the factories may not start working even when the restrictions are eased because of the unsold goods in the inventory. Since marble is a luxury item and construction activities have been suspended, he said, there is a remote possibility of demand for marble anytime soon.
Source: theprint.in