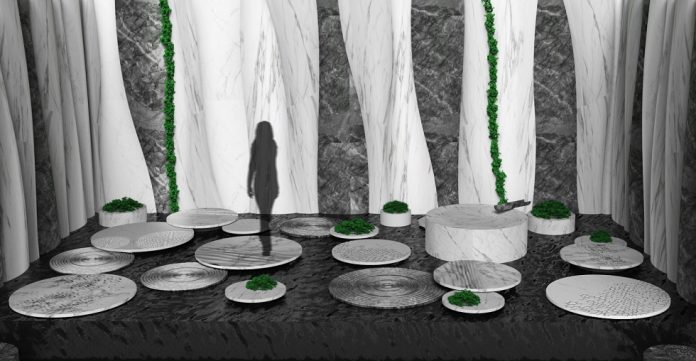 The natural environment as the fusion of two worlds – geological and biological – can be explained and interpreted as an enclosed space, a room open to the sky above. Just like Hortus conclusus, that embodied in a microcosm of symbols the desire of the Mediaeval world for a deep bond with nature and the supernatural, the Lithic Garden can now be a place where the interplay between and bio materials can generate new ideas for the human habitat, in a desired and sought-after relationship based on sustainability, balance and harmony with nature.
This is the goal of Lithic Garden exhibition curated by Vincenzo Pavan and entrusted to the creativity of designers of international calibre in collaboration with companies in the stone sector having a focus on experiments with innovative technologies in the processing of materials.
The Lithic Garden will unwind along a paved path overlooked by five spaces each marked off by three walls allowing a cross-section view of the interior garden they enclose. Horizontal and vertical surfaces, seats and sculptural elements, vegetal or water inserts will give shape to the design topics matching up with the companies taking part as the ideal partners for experimenting with new-generation technologies to process stone materials.
During the event, a round table presentation of the projects included in the exhibition attended by designers and companies is scheduled in the Forum Area.
Designers and Companies taking part
Shajay Bhooshan & Giuseppe Fallacara / Pi.Mar
Vincenzo Latina / Pizzul Marmi Aurisina, Zenith C
Marco Piva / Lavagnoli Marmi
Setsu & Shinobu Ito / Errebi Marmi
Cino Zucchi / Franchi Umberto Marmi
The installations are connected by a paved path developed by Cancian Pavimenti, while the relax spaces are designed by Alberto Minotti in collaboration with Galvani Trading and Marmi Ragano Ma.Ra.
Source: www.marmomac.com