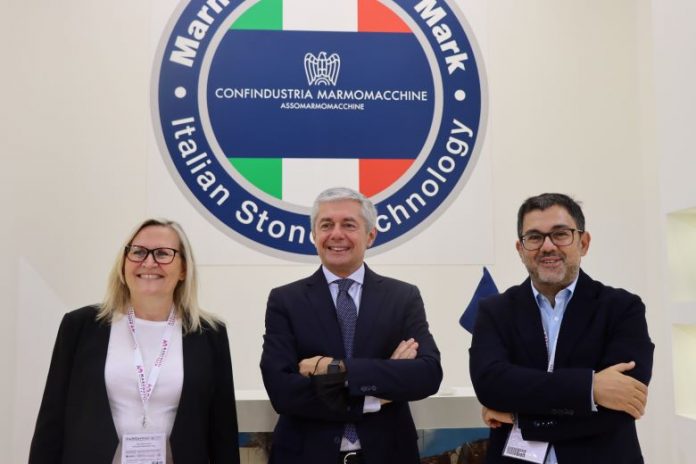 The Marmomac 2021 exhibition in Verona included not only an exhibition of products and machinery around the stone field, but also discussions on industry developments.
The venue for these discussions was the Confindustria Marmomacchine pavilion, in which Marchetti Tech also participated.
The Milan-based Confindustria Marmomacchine is an outstanding representative of the best stone companies operating in Italy, and promotes their development, especially assisting in representation abroad and promoting their internationalization.
Marchetti could not be left out of the Marmomac exhibition table, and company executives said: "It was a happy moment – I was at the Confindustria Marmomacchine pavillion to thank the staff who helped the companies during COVID – from now on we think about the future and together with Confindustria Marmomacchine, we think about how we will go to foreign markets – thanks to President Marco De Angelis and Honorary President Flavio Marabelli and the entire board of directors who always worked for the good of all the partners ", said Marchetti Tech Chief Innovation Officer Arianna Marchetti who is a member of the board of Confindustria Marmomacchine.
Marchetti Tech CEO Joseph Anthony Miceli said: "Being in Marmomac makes a lot of sense, doing it with Confindustria Marmomacchine is a confirmation of a strong and long-term relationship. Our goal is to properly represent all companies to always be ambassadors of Italy and together with the Union we can create important opportunities for the good of our businesses."