Turkish exporters are making new moves, as despite the pandemic they have taken advantage of digital commercial shipments and are expanding into new markets even more.
Aegean Minerals and Natural Stones Exporters Association (EMIB), have around 1.300 exporter member companies located mainly at Aegean region. It's members export 920 million USD annually. Natural Stones, metallic minerals, industrial minerals, ferroalloys and other mining products are among the principle areas of EMIB. EMIB organizes trade fairs, trade mission programmes, education programmes for it's member companies.
 During the pandemic, conventional fairs and trade mission programmes was replaced by digital organizations. EMIB is also adopting it's organizations to new normal and started organizing digital activities.
 As import figures of China started to decline in 2020 EMIB, started to look for alternative markets. EMİB organized the first virtual event in November, 2020 to Vietnam. During the programme 17 Turkish exporting companies and 20 Vietnamese importers made 191 B2B meetings. EMIB launched a four-day Digital Natural Stone Trade Delegation to the Gulf Countries, which is included UAE, Qatar, Kuwait, Bahrain and Oman.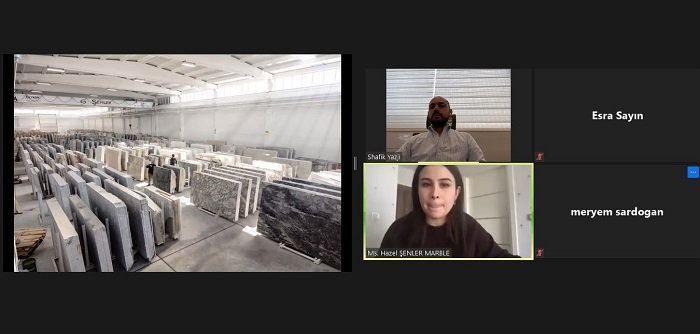 In the first day of Digital Natural Stone Industry Trade Delegation a digital opening ceremony was held with the participation of Deputy Minister of Commerce Riza Tuna Turagay, Turkey Exporters Assembly (TIM) Chairman Ismail Gulle, Aegean Exporters' Associations (EIB) Coordinator Chairman Jak Eskinazi, Aegean Exporters' Associations (EIB) Secretary General İ. Cumhur İşbırakmaz and Mevlut Kaya, chairman of EMIB.
 EMIB decided to organize a digital trade mission programme to Gulf Countries after a detailed search about the Middle East market. In 2019, UAE has 328 million dolars of natural stone import. %13 percent of this import made from Turkey. According to Global Data reports, despite the epidemic period, construction projects in the UAE are expected to grow by 3.8% in 2021.
 Turkish natural stone exporters can be included Qatars' 2030 vision projects. Qatar's foreign trade is shaped by international energy prices. Foreign trade volume continues due to increasing exports and imports with investments, infrastructure development program, industry, education and tourism sector. Qatar, which will host the World Cup in 2022, will build accommodation facilities, stadiums and transportation terminals of 150 billion USD over the next ten years. Our member companies can be included in 470 projects initiated for Qatar's 2030 vision.
 Kuwait is in a net importer position due to its geography in the natural stone industry. When we look at Kuwait's natural stone imports in 2019, it is seen that there is an 0.3 percent of increase compared to 2018.
 The construction industry is expected to grow rapidly in Bahrain. According to MEED Projects data, the fastest growing sector in Bahrain in 2018 is the construction sector with %5.6 increase. The construction industry is expected to grow rapidly in the 2019-2023 period. One of the most important reasons for this expectation is that the government wants to reduce the dependence on oil and natural gas, The 18% of Bahrain's 2019 import is made of natural stone from Turkey. It is expected that the construction sector in Bahrain will constitute 35.9% of total production and it will grow by 10.17% in 2023.
 Evaluation of Trade Mission Programme
During the trade mission programme 20 Turkish natural stone companies has made 211 B2B meetings with natural stone importers. After the event Mevlut Kaya chairman of EMIB said: "It was a really succesfull trade mission programme and all companies made fruitful B2B meetings. We hope we can compensate the decrease in our exports due to COVID-19 with Middle East market.