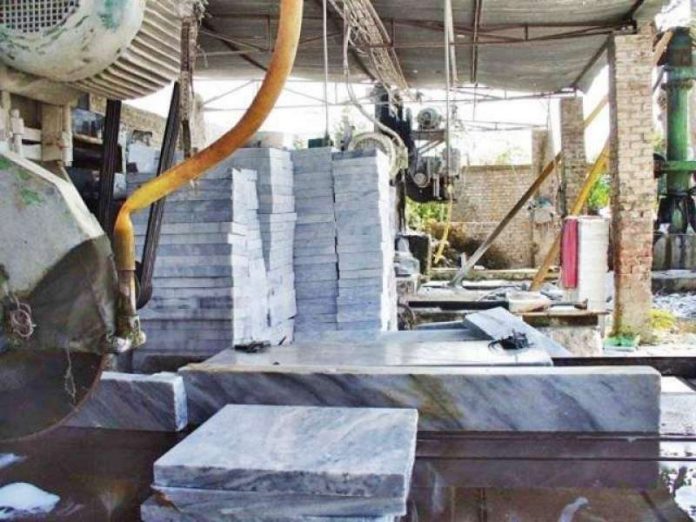 Pakistan has abundantly rich reserves of high-quality marble stones in the mountainous regions of Khyber Pakhtunkhwa, Balochistan, Sindh, Azad Kashmir and Gilgit-Baltistan with exotic appearances, immense decorative colors and functional value of cooling in hot weather. Marble is a material used in prestige architecture and interior designing of buildings.
Pakistan has excellent variety and colors of marble including white-limestone, yellow-sandstone, Indus-goldstone, black, blue and white granite, dark-green, green, light green white, multi-green, golden and pink-onyx, brown, grey and camel-colors marble.
Similarly, the variety of sand stone and Boti sena are unique marble stones found in the country.
The stones after extraction from the mountains are transported to different small and large scale processing units throughout the country. After the raw material is processed and refined in the shape of blocks and slabs of specific size by cutting, polishing and inlay-designing. The product gets ready for sale and marketing purposes in local as well as in the international markets. According to a report of Trade Development Authority of Pakistan (TDAP), Pakistan is estimated to have marble and onyx reserves of more than 300 billion tonnes while granite reserves are estimated as 1,000 billion tonnes. The marble and onyx reserves exist largely in Mohmand Agency, Chitral, Buner, Swat, Parachinar, Gilgit, Hunza, Swabi, Bajour, Mardan, Wazirstan, Azad Kashmir, Lasbela, Chagai and Khuzdar. The biggest onyx reserves are in Chaghai while the report lists Gilgit, Dir, Chitral, Swabi, Kohistan, Nagarparker, Chagai, Mansehra, Malakand and Swat had rich deposits of granite. Similarly, Malakand and Mardan also have rich reserves of grey and camel marble stones.
The marble stones are also found in the newly merged districts of Khyber Pakhtunkhwa: Orakzai and Kurram which have some of the unique designs making them prominent faces of the marble industry in the country.
The white marble of Pakistan due to its distinguished quality of heat resistance is used in buildings to keep them cooler in hot weather. Despite the huge deposits and the long-term export potential, the country's annual production of marble and its export is less than the expected volume. However, due to advanced machineries and feasibility, some of the neighboring countries purchase the raw products of slabs and blocks from Pakistan and re-export the value-added items around the world. This indicates the dire need for developing technology to capture the value-added export markets of marble.
Talking to APP, Focal Person of the Pakhtunkhwa Marble Supply Association Sherafsar Khattak said that the mountain ranges of KP and Balochistan were famous for their high-quality marble stones. But it was not easy to bring down the stones from high-peak-mountains to industrial zones due to poor road infrastructure. He said that the prices of the products get doubled due to transportation from hilly areas to processing units located in different parts of the country. Around 45 thousand ton raw material of marble stone was produced per day only in Khyber Pakhtunkhwa, he added.
He said in Khyber Pakhtunkhwa 80% person extraction of marble was carried out through blasting which was a risky and obsolete method as about 50% percent of the raw marble was wasted in the mining process. In the modern and developed world, the mining of marble was carried out by wire cutting and block cutting and modern extraction machineries for saving maximum raw marble which was also safe for the labor, he added.
Ijaz Khan, a marble refinery owner in Rawalpindi while talking to APP said most of the marble in Punjab came from Baluchistan and Khyber Pakhtunkhwa which was refined in Rawalpindi, Lahore and Gujranwala. He said the product was bought in raw form and cut in different shapes and then polished for further sale in local and export markets. Marble such as Boti sena, grey and camel colors, abundantly available across the country, were low in cost while the red lined and black gold marble were rare and expensive due to its shining and export demand, he added.
Sherafsar Khattak said that KP had around 4300 marble processing units out of which 1500 industries were functional in government approved industrial zones in Mardan, Bara Banda, Gadoon and Mansehra while the remaining industries were established on individual basis. He said that the marble states should be established closer to mountains so that stones might easily be transported to nearby industrial areas. Around one million people were engaged in marble related business in Pakistan including laborers, transporters, industrialists, mining persons, and business dealers, he added.
Khattak urged the government to formulate a policy for safe and better extraction process of marble stones while modern technology and technical instruments should be provided to the industry on subsidized rates to enhance potential of the sector for value-added products. Likewise, the government should also focus to make proper marketing of the marble products on international forums to boost this industry, he added.
Source: pakobserver.net