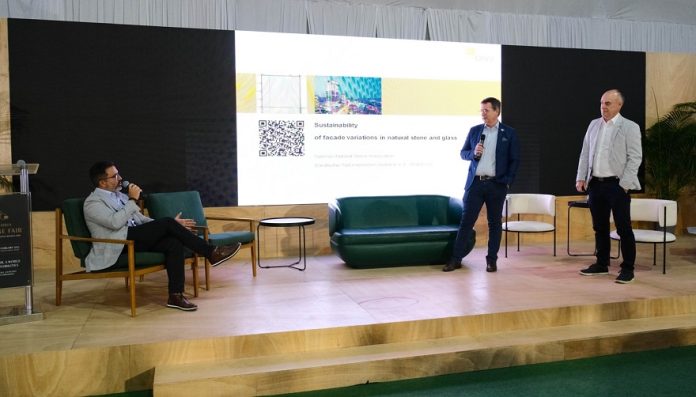 Invited by It's Natural – Brazilian Natural Stone, the German Natural Stone Association (DNV) directors participated in the Vitoria Stone Fair 2023. During the visit, the professionals had the opportunity to present the study "Sustainability of Natural Stone – Life Cycle Assessments of Flooring and Facades".
Hermann Graser and Reiner Krug, respectively, president and CEO of DNV, were part of an international committee made up of international specifiers and influencers participating in the Imagens and Design in Brazil projects, actions integrated into the project to encourage exports of Brazilian ornamental stones conducted by the Brazilian Center of Natural Stone Exporters (Centrorochas), in partnership with the Brazilian Trade and Investment Promotion Agency (ApexBrasil).
Comparative data regarding several types of cladding used on floors and facades were presented during the presentation. In different contexts, it is noticeable that natural stones stand out as the most sustainable product to be applied in buildings and the urban environment.
In time, the national stone sector, through Centrorochas, aligns its scope of beginning an environmental impact study of the Brazilian segment. According to this entity, the work should start in the next few months. Three of the sector's main products will be analyzed: marble, granite, and quartzite.