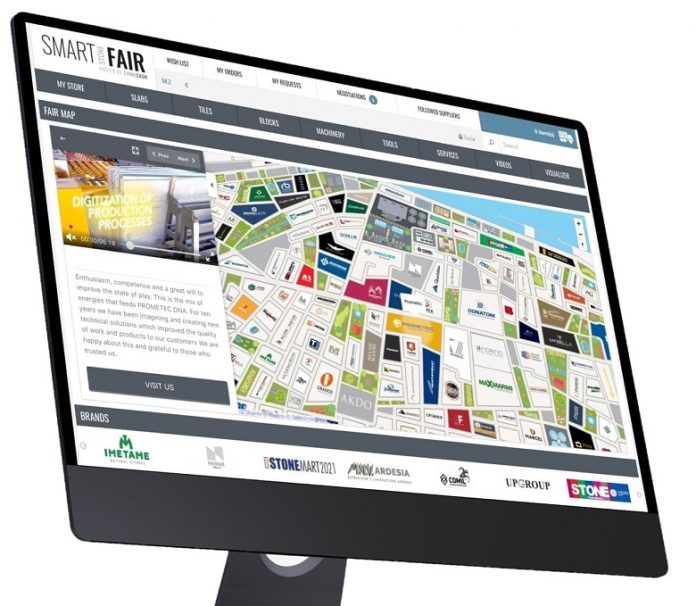 The third edition of the virtual stone event has come to an end with surprising results once again
After three official days of fair and two weeks of "after fair", SmartFair 3rd edition has officially closed its doors signing a new success. With more than 300 exhibitors from 19 countries and over $500 million worth of loaded materials (excluding machinery), the digital fair has confirmed its position as the world's leading digital event for the stone industry.
This renewed success is also linked to the vast audience which exceeded the 30.250 unique visitors divided as follows: 22% of fabricators, 19% of distributors, 16% of importers, 13% of consultants, 13% of architects and interior designers, 8% of builders, 7% of traders, and a remaining 2% who identified themselves as "other".
In comparison with the previous editions, the SmartFair team was expecting to see a consistent drop in terms of visits because of the introduction of an additional security authentication which further allowed the entry to qualified and verified sector's operators only. However, the team have been happily surprised to see that the third edition has received similar accesses compared to the previous two events. This not only proved that the aim of the fair is focused on quality over quantity, but also that SmartFair is the only long-lasting and successful digital reality in the stone industry.
As regards content innovation, the third edition introduced an events agenda rich of video contents that were broadcasted in streaming during the three main days of the fair. From webinars to company presentations, interviews, and product launches, all these contents have achieved great success with more than 5.000 views for each video in less than 12h. In addition to the exhibitors, a significant contribution in the content creation came from SmartFair's media partners who have conducted interesting webinars regarding different topics such as industry trends, what architects look for when choosing natural stone, how to preserve certain materials, and much more.
The event concluded with the virtual greetings of the StoneCash team which was broadcasted live. The following two weeks were then dedicated to the "after fair", an extra time during which all the participants had the opportunity to close the deals and collect all the clients' data that they have obtained during the three main days of fair. The next SmartFair edition will be announced soon.