At the Tuwaiq Sculpture exhibition in Durrat Al Riyadh, public witnessed live sculpting of large-scale artworks, experiencing the completed artworks post production.
Over the last month, 30 artists from 20 countries transformed stone to sculptures in Durrat Al Riyadh, at the outskirts of the capital city of Saudi Arabia, whilst the public watched avidly, witnessing the sculpting live. With the works finally completed, the fourth edition of the Tuwaiq Sculpture symposium culminated in an exhibition of the artworks, showcasing a wealth of local and international talent, which will later become permanent additions to Riyadh's public art collection.
"Tuwaiq Sculpture is a platform for artists to meet, collaborate and create in a live setting. The artists live together, spend time together, and then there's transfer of knowledge and exchange of experiences," shared curator Marek Wolynski. "When it comes to the sculptures, it's absolutely stunning how the artists responded to the theme of Energy of Harmony, trying to encapsulate those processes of introducing and witnessing transformative change. We have a range of approaches, from very geometrical to very organic and fluid, trying to touch upon the balance we all strive for in our lives," he added. "A balance between contrast and similarity, repetition and difference, abundance and scarcity and what's in between, and how that intangible idea can be captured with a very tangible material."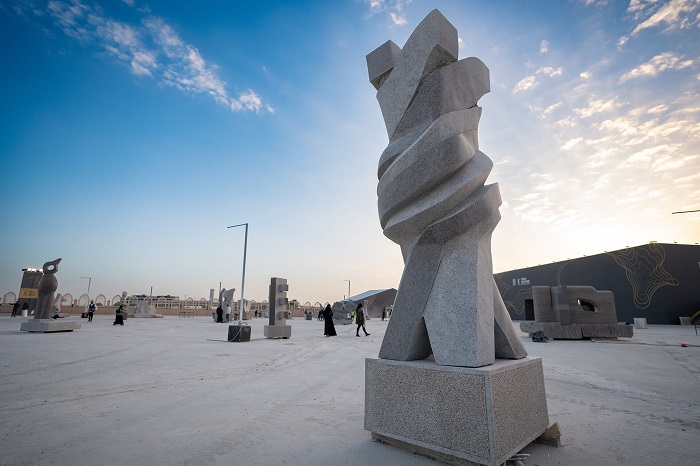 Visual artists from as far as Austria, China, France, Germany, Italy, Japan, Spain and Switzerland, alongside strong representation from Saudi artists, were selected from over 600 applications, through an open call, by a jury panel of experts, including—Wolynski, Alaa Tarabzouni, Ali Al-Tokhais, Effat Fadag, and Johannes von Stumm. The number of applications for this edition were almost double the previous year's proposals.
First launched in 2019, the Tuwaiq Sculpture has since turned from a competition into an open call commission, with education at its heart. An engagement program of over 65 workshops, tours, panel discussions, and school visits accompany the live viewing sessions. This edition is also the first time the symposium sourced all the stone locally, using granite and sandstone from Riyadh for the sculptures.
Source: www.stirworld.com