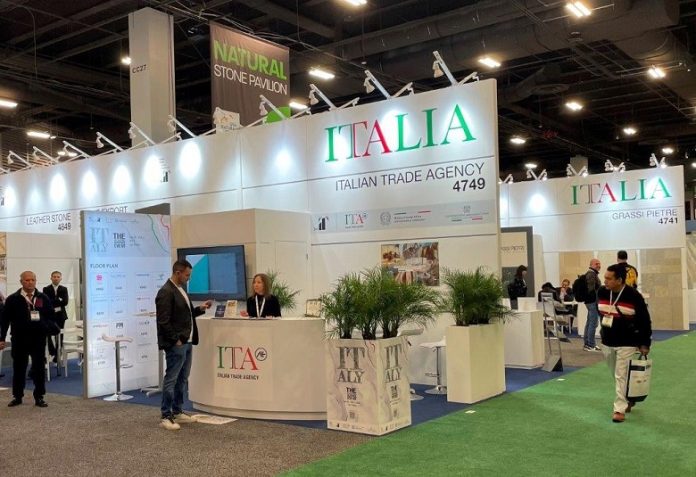 From January 31 to February 2 Confindustria Marmomacchine participated in The International Surface Event (TISE) in Las Vegas, USA at the Mandalay Bay Convention Center.
For the North American show, in fact, the association – in collaboration with ICE-Agency – promoted and coordinated a collective exhibit of Italian stone and techno-stone companies, which featured the direct presence of the following: ARVEX ITALSTYLE – AVISIO PORFIDI – BERTI SISTO & C. INDUSTRIA PIETRA SERENA – BONOTTI ESPORTAZIONI – CONFINDUSTRIA MARMOMACCHINE – DIATEX – DOMOS – EMMEDUE DIVISION/INDUSTRIE MONTANARI – FERRARI & CIGARINI – FH STONE SOURCE – GNC MECCANICA – GRASSI PIETRE – LEATHER STONE – MARMI E GRANITI D'ITALIA – MARMI GHIRARDI – MARMOMACCHINE INTERNATIONAL – MEDITERRANEAN STONE – NEMESI – PEDRINI – ROGIMA MARMI – S.I.L.MAR. – STEINEX – STONE EXPORT – TAGLIO.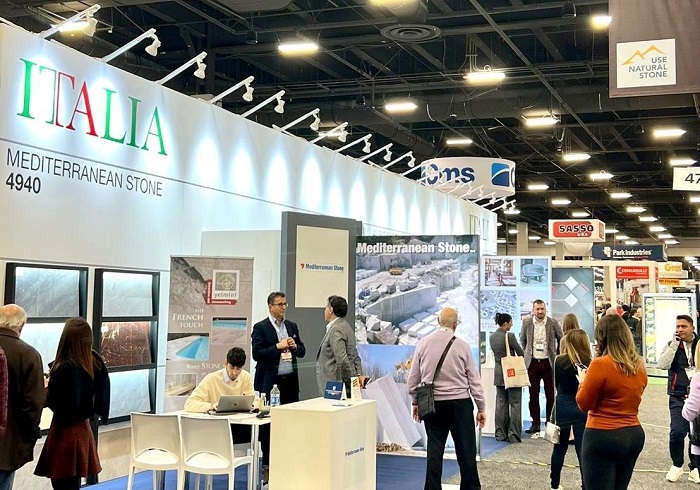 Numerous Confindustria Marmomacchine member companies were also present at TISE 2023 through their agents/distributors. Inside the Italia Area at TISE 2023 the association and ICE-Agency also provided an inviting official Meeting Point with information and assistance services for Italian exhibitors and visitors.
TISE is a reference showcase for the stone industry, thanks also to the attendance of the main international stone associations at NATURAL STONE PAVILLION, the special showcase entirely devoted to natural stone industry. Confindustria Marmomacchine (Italy), CentroRochas (Brazil), the Natural Stone Institute (United States), Assimagra (Portugal), the Greek Marble Association (Greece) and IMIB (Turkey) have recently constituted an international alliance – the NATURAL STONE STRATEGIC ALLIANCE – for the purpose of jointly dealing with issues and projects of obvious strategic importance for the world stone sector.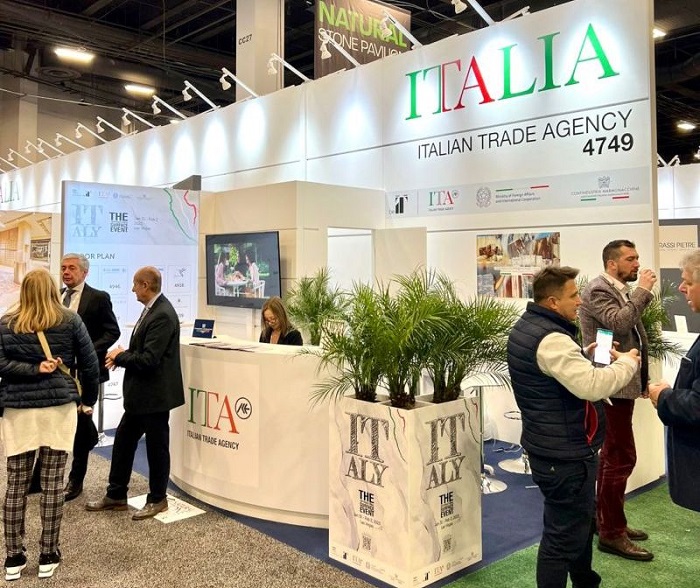 One of the first decisions this alliance took was to focus its attention on the US market – the top market globally for the ornamental stones sector – and on the opportunity for developing synergetic projects in the tradeshow context in this area, with the aim of putting natural stone at the center of attention among sector stakeholders, architects, designers, interior designers and North American operators in the home furnishings and building sectors.
On the statistical level we remind readers that the United States in the first ten months of 2022 was again the leading destination country for Italian stone and techno-stone exports, with purchases of finished and semi-finished products worth more than 423 million euros (+29.2% from 2021) and of stone-working machines and equipment Made in Italy worth 165,5 million (+38.8% from 2021).