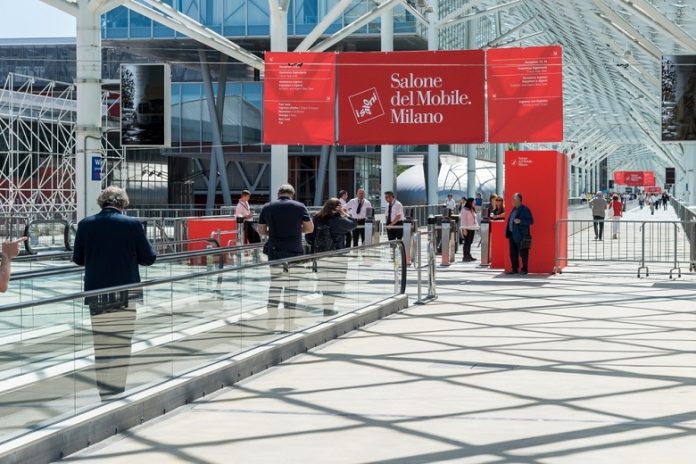 A handy guide for visitors to find out everything they need to know about this year's Salone del Mobile, on from 18-23 April at Rho Fiera
The furniture design industry's premier international event is less than a month away. Promising a plethora of new products, cultural events, exhibitions and not-to-be-missed talks, the Practical Guide to Salone del Mobile.Milano 2023 is an excellent tool for planning a Fair visit in advance.
Reaching and visiting Salone del Mobile.Milano 2023
The event's opening days are exclusively reserved for industry professionals. The Fair opens to the general public on Saturday 22 April and Sunday 23 April. Students may visit the Salone on 21, 22 and 23 April. Events run from 8:30 a.m. to 6:30 p.m. for the press; visitor events run from 9:30 a.m. to 6:30 p.m.
Event access is ticketed. Tickets are on sale from the Salone del Mobile's digital platform. Special purchase procedures apply to travel agencies and operator groups, and to students on individual/organized visits.
The Salone is easily accessible by public transport, by train, from the airports, and by shared taxi, with one station for each Gate (East-South-West). Here you can find all the details and information to reach the Salone del Mobile. Inside the fair site accessibility to all the spaces is also guaranteed to people with disabilities and  those with reduced mobility thanks to accessorized paths and services.
Getting around Salone del Mobile.Milano 2023
Moving between events and quickly reaching exhibitors has never been easier. In 2023, in addition to traditional totems, visitors can take advantage of the new interactive wayfinding feature to create their own personalized routes. The interactive map is available on the Salone del Mobile.Milano App or by clicking here.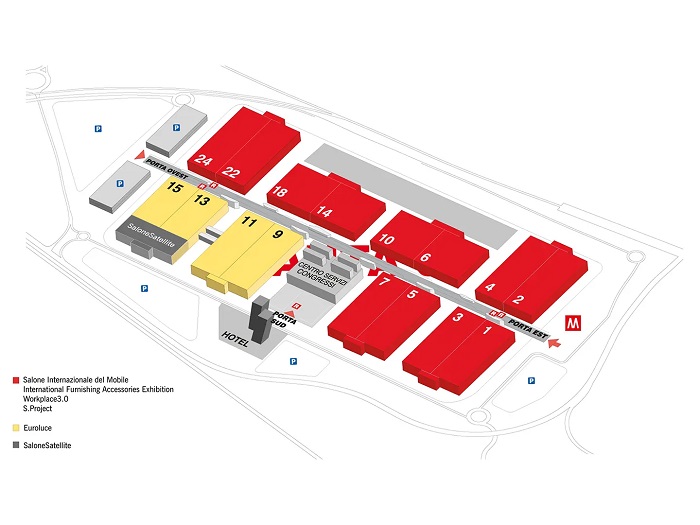 New experiences for Salone del Mobile.Milano 2023
The big news this year is:
– To enhance visitor enjoyment and experience, all events take place on a single exhibition level.
– Euroluce is back with a new people-centric layout designed by studio Lombardini22, going beyond a stand-based approach to create a whole new Fair experience.
– Ranging from architecture to art, featuringexhibitions, talks, workshops and site-specific installations, the Salone's cultural programme takes place at the biennial Euroluce show space.
For 2023, 1,962 exhibitors, including over 550 talented under-35s and 28 design schools are involved in Fair events. As well as the customary Salone Internazionale del Mobile, Salone Internazionale del Complementd'Arredo, Workplace3.0, S.Project and SaloneSatellite annual events, the 2023 Fair sees the eagerly anticipated return of the biennial Euroluce show with a host of new features.
Must-see events at Salone 2023
Highlights of the Salone del mobile.milano 2023's rich cultural programme at Euroluce include:
– Four exhibitions and constellations curated by Beppe Finessi and designed by studio Formafantasma, all at the biennial Euroluce show.
– Aurore, an interactive arena designed by Formafantasma in partnership with House of Lyria, hosting events, workshops, talks, and immersive experiences.
– Curated by Annalisa Rosso, the Aurore talks programme features Shigeru Ban, Nao Tamura, Kjetil Trædal Thorsen and Marius Myking of Snøhetta, and Andrea D'Antrassi of MAD, who will be taking questions from five international journalists.
– Talks at the SaloneSatellite with Gaetano Pesce, a leading figure in the history of Italian design, featuring the directors of some of the world's most prestigious design schools –
– ECAL (Switzerland), Scuola del Design / Politecnico di Milano (Italy), Tongji University (China), Design Academy Eindhoven (Netherlands), School of Design / Pratt Institute (USA) – with the round table "Design: WHERE ARE YOU GOING?", moderated by Annalisa Rosso.
– Two round tables curated by Jacopo Acciaro / Voltaire Lighting Design with the support of IALD, AIDI and APIL
– A site-specific installation by Maurizio Nannucci, a leading interpreter of man-made light in contemporary art.
– A specialist design, art and illustration bookshop, designed by Formafantasma and curated by Corraini Editori. In addition to its curated selection, the bookshop offers works of literature that, in various guises, explore the theme of light.
– A bistro and fine dining restaurant designed by Piero Lissoni, harmoniously in tune with the biennial Euroluce Fair's space concept.
All exhibits may be visited during standard opening hours. Talks curated by Annalisa Rosso take place between 11 a.m. and 1 p.m., from Wednesday 19 to Saturday 22 April, and are also accessible via streaming. Gaetano Pesce will be on site between 3 p.m. and 4 p.m. on Tuesday 18 April.
Soon-to-be-announced company-organized events will run alongside Fair-scheduled events. Update the official Salone app to see them or visit the events page to find more details and information.
Source: www.salonemilano.it