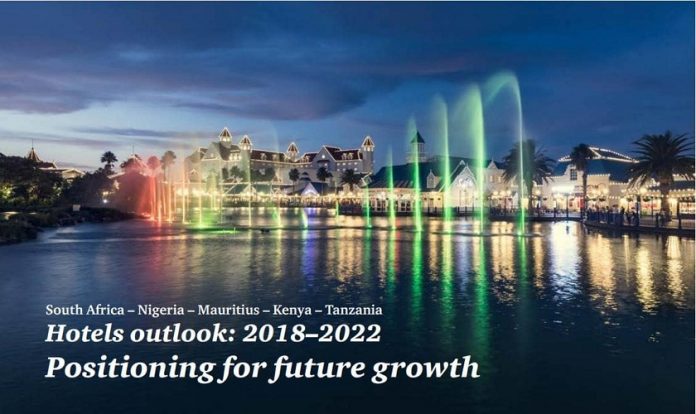 According to the latest report from PwC "Hotels outlook: 2018–2022 Positioning for future growth" Africa's hotel sector has the potential for further growth over the next five years. An increase in the number of foreign and domestic travellers, as well as expansion in a number of hotel chains on the continent reinforces the hotel sector's untapped potential for business growth.
The hotels and tourism sectors in each of the countries in our report are all showing signs of continued growth over the forecast period. Tourism remains an important part of each economy, with continued investment in each country seeing additional hotel rooms coming on line over the next five years.
Pietro Calicchio, Hospitality Industry Leader, PwC Southern Africa, said "Tourism to the African continent has proven to be resilient in the face of economic and political uncertainty, impacts of droughts and other regulatory changes. The opportunities are aplenty for this industry to enjoy further growth, albeit at a more modest pace. However, we continue to see there are also a number of challenges facing each country. This is an industry that is reactive to the smallest change in political, regulatory, safety and sustainability matters."
Room for growth
The hotel market in each country is affected by both the local and global economy, with some countries being more dependent on foreign visitors than others. The growth forecast is therefore dependent on how well both the local and global economy performs and grows over the next five years.
The outlook remains positive for South Africa. The number of available rooms rose 1.3% in 2017, the largest increase since 2011. We expect an even larger increase in available rooms in 2018, accounting for a 1.8% gain.
Nigeria remains an attractive market for international hotel brands because of its large economy. Nigeria is expected to be the fastest-growing country over the next five years. Despite impediments, a number of new hotels are scheduled to be opened during this time. Continued improvement in the domestic economy will also lead to faster growth in guest nights. For the forecast period as a whole, the number of available rooms in Nigeria will rise from 9 700 in 2017 to 12 600 in 2022, a 5.4% compound annual increase – still the largest expansion of any country in the report.
Kenya, Tanzania and Mauritius should be the next fastest growing, with compound annual increases of 9.6%, 9.1% and 7.2%, respectively. Kenya will benefit from a rebound in tourism, new hotels, its growing prominence as an experience destination, infrastructure upgrades, and the expectation of political stability.
Travel
Despite the challenges faced by the South African tourism industry, international visitor numbers to South Africa continued to grow, with a 2.4% increase overall. The outlook for 2018 remains positive albeit at lower percentages than experienced in 2016. The report projects that the number of foreign visitors and domestic tourism will increase by 5.3% in 2018. The total number of travellers in South Africa is expected to reach 19.5 million by 2022, a 4% compound annual increase from 16 million in 2017. There is also continued debate on further relaxation of visa requirements for international visitors and this may impact on forecast growth.
We also expect Tanzania to grow, albeit from a lower level. More flights to Tanzania will boost its foreign tourist potential, new hotels are entering the market, and a strong economy will support domestic tourism.
Following annual increases of 10.8% in 2015 and 2016, tourist arrivals to Mauritius rose an additional 5.2% in 2017. We expect tourist arrivals to Mauritius to continue to expand, but at a slower pace than in recent years, averaging 4.2%, compounded annually, to 1.65 million in 2022 from 1.34 million in 2017.
Increased revenue numbers
Overall room revenue in South Africa, Nigeria, Mauritius, Kenya and Tanzania rose 2.7% in 2017, down from the 10.6% increase in 2016, as declines in Kenya and Tanzania offset double-digit increases in Nigeria and Mauritius. Room revenue in South Africa rose 4.6%.
Overall, room revenue in South Africa is expected to expand at a 5.6% compound annual rate to R21.8 billion in 2022.
The hotel markets in Nigeria and Mauritius continued to perform well in 2017, with both achieving double-digit growth, whereas Kenya and Tanzania had decreases in room revenue.
Hotel room revenue in Mauritius increased by 12.7% in 2017 and the country continues to experience growth in the number of foreign visitors.
Kenya experienced a drop in visitors following the national elections in August 2017, but recovery was already seen in December with an increase in visitor numbers resulting in 9.9% overall growth. However, this was not enough to boost overall room revenue, which showed a 13.5% decline in 2017.
Tanzania's hotel room revenue amounted to US$206 million in 2017, a decline of 5.5% over 2016 due to a drop in guest nights.