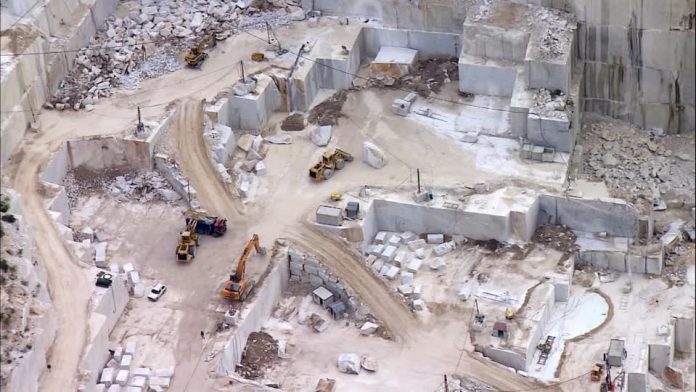 President Trump's recent announcement of stiff tariffs on steel and aluminum imports from European Union, Mexico and Canada has turned the world market upside down while there are serious concerns whether this will be applied to other imported goods.
In the table below, Stonenews.eu, following their research on the statistic reports of the International Trade Centre and the National Statistical Institutes, presents European Union, Mexico and Canada's granite and marble exports to U.S.A. shares in value as established in 2017.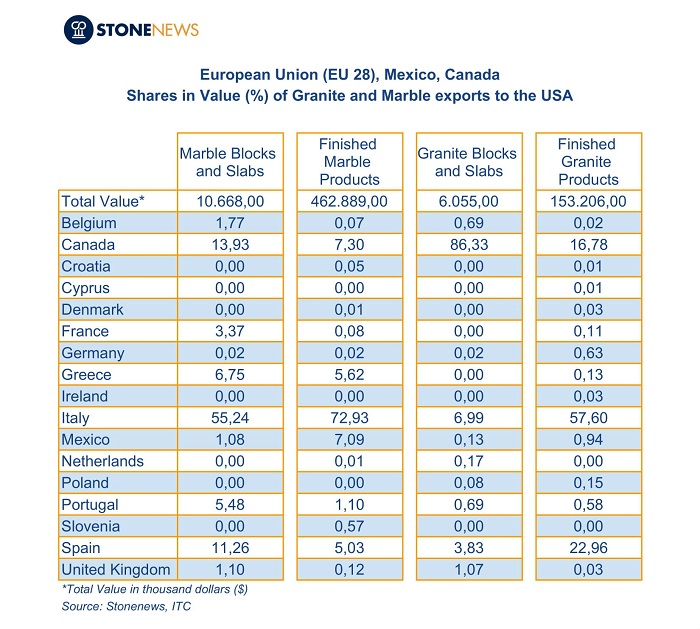 Marble dominates exports to U.S.A., according to the table, while Italy is the outstanding country in exports. More specifically, Italy is the largest unprocessed and finished marble exporter followed by Canada, Spain and Greece.
Canada is by far the largest unprocessed granite exporter while Italy is at the top of finished granite exports follwed by Spain and Canada.
*Statistic reports result from the tariff codes below (HS Codes – Harmonized System Codes):
251611: Granite, crude or roughly trimmed (excluding already with the characteristics of setts, curbstones and flagstones)
251612: Granite, merely cut, by sawing or otherwise, into blocks or slabs of a square or rectangular shape (excluding already with the characteristics of setts, curbstones and flagstones)
251511: Marble and travertine, crude or roughly trimmed
251512: Marble and travertine, merely cut, by sawing or otherwise, into blocks or slabs of a square or rectangular shape
251520: Ecaussine and other calcareous monumental or building stone of an apparent specific gravity of >= 2,5, and alabaster, whether or not roughly trimmed or merely cut, by sawing or otherwise, into blocks or slabs of a square or rectangular shape (excluding in the form of granules, chippings or powder, and marble and travertine)
680221: Marble, travertine and alabaster articles thereof, simply cut or sawn, with a flat or even surface (excluding with a completely or partly planed, sand-dressed, coarsely or finely ground or polished surface, tiles, cubes and similar articles of subheading 6802,10, setts, curbstones and flagstones)
680291: Marble, travertine and alabaster, in any form (excluding tiles, cubes and similar articles of subheading 6802.10, imitation jewellery, clocks, lamps and lighting fittings and parts thereof, buttons, original sculptures and statuary, setts, curbstones and flagstones)
680223: Granite and articles thereof, simply cut or sawn, with a flat or even surface (excluding with a completely or partly planed, sand-dressed, coarsely or finely ground or polished surface, tiles, cubes and similar articles of subheading 6802 10 00, setts, curbstones and flagstones)
680293: Granite, in any form, polished, decorated or otherwise worked (excluding tiles, cubes and similar articles of subheading 6802.10, imitation jewellery, clocks, lamps and lighting fittings and parts thereof, original sculptures and statuary, setts, curbstones and flagstones)
Source: Stonenews.eu, ITC